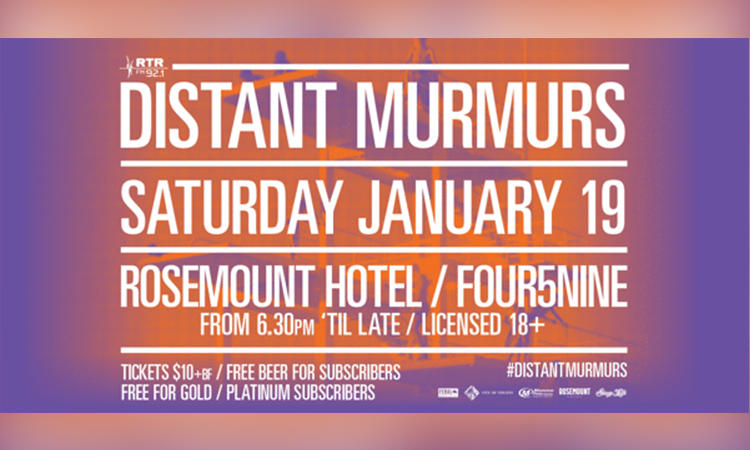 RTRFM's local music festival Distant Murmurs returns for its fifth year at The Rosemount Hotel as 14 local bands take over North Perth, Saturday January 19. The best way to kick off 2019.

It kicks off early from 6pm in the beautiful surrounds of the North Perth Town Hall with the sounds of rocking sounds of Homebrand, the pop magic of Airline Food, the folk wonder of Tanaya Harper (Band) and the over wordly sounds of New Nausea.

Over at The Rosemount Hotel they're taking over the main room with the sounds of Physical Release, the alt jazz of Ryan Beno, the whistful magic of Segue, rock 'n' roll of Ah Trees, solo vibes of Denise Le Menice (Boat Show) and the epicness of Wooley Mammoth.

And in 459 they're going hard with the punk vibes of The Shakeys, the pop rock of Bad Friends, the live magic of Scalphunter and straight grunge rock of The Limbs.

Distant Murmurs is the best way to spend a summer Saturday afternoon, immersed in tunes from the present and future of Perth's musical landscape.

RTRFM Subscribers will also get themselves a free beer on RTRFM and their mates at Feral Brewing Co and can help them out with a karma keg all night in the main room.
Tickets On Sale Now
---
---