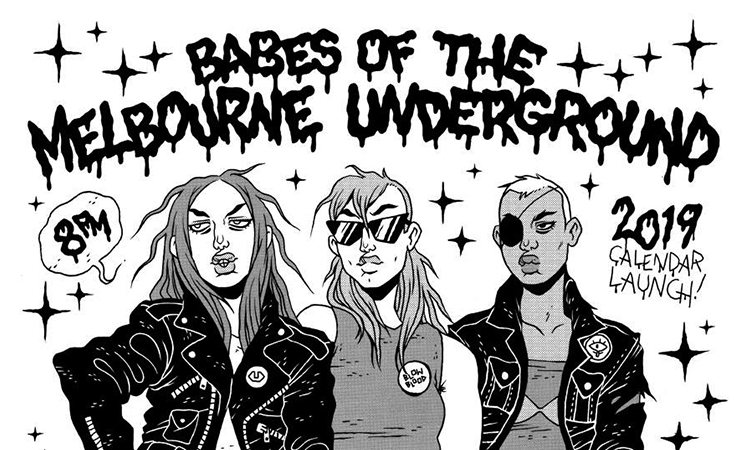 Having been curated over the past year by 3 Melbourne women - Christina Papadimitropoulos, Kate Curtis and Harriet Hudson, along with so many people who inspire them - the "Babes of the Melbourne Underground" 2019 Calendar is ready launch!

"We have curated this 2019 calendar to showcase so many inspirational people in the melbourne underground including musicians, music industry professionals and more. Whether contributing to our community through playing in bands, the running of community spaces, booking shows, doing sound, running distros, hosting radio shows or simply being huge fans, everyone in the calendar is a massive part of the Melbourne music scene. Many beauty industry professionals, photographers and business owners donated their time/spaces to help us make this calendar really pop, so it's been a big coming together of great hearts and minds, and an absolute blast for everyone involved. All proceeds of this calendar go direct to two important organisations, Minus 18 and Sisters Inside".

Minus 18 help young people smash homophobia, biphobia and transphobia through events, resources and workshops.

Sisters Inside is an independent community organisation in Queensland that advocates for the collective human rights of women and girls affected by the criminal legal system, and their families.

Helping to launch the calendar on the night will be a stellar live line-up featuring Amyl & The Sniffers, Dumb Punts, Infraghosts and Dove and DJ sets from Em Gay abd Thee Cha Cha Chas.
Tickets On Sale Now