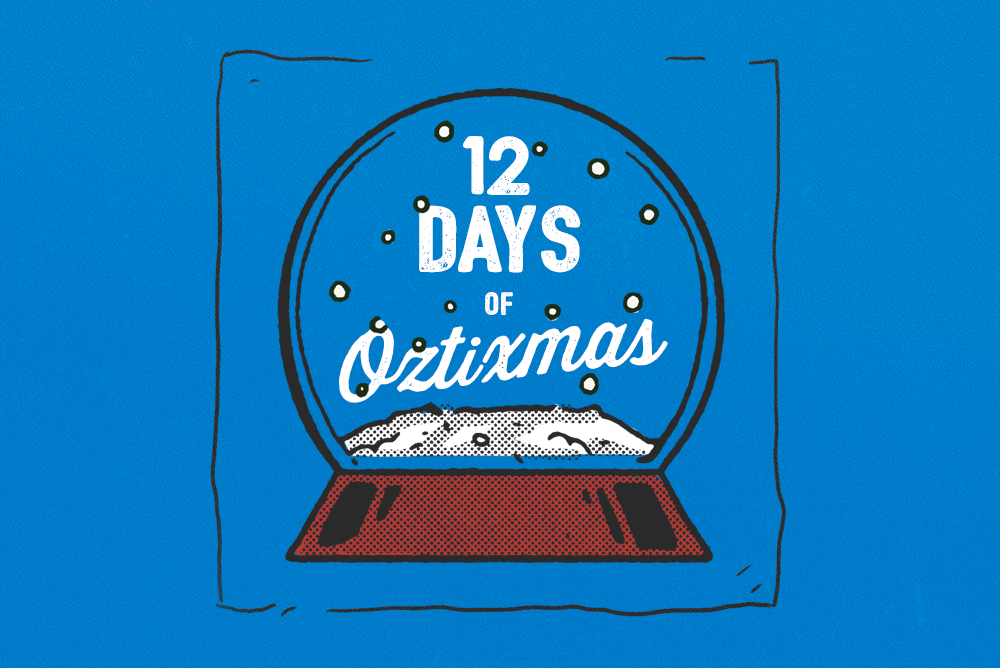 In the Christmas spirit, we're giving away a double pass to an event every day for 12 days from Monday December 11 2017.

Each day we'll reveal the event or tour that's up for grabs on our Instagram page. All you have to do, is follow the simple steps below to enter:

1. Follow @oztix on Instagram
2. Like the relevant '12 Days of Oztixmas' daily promo post
3. Tell us why you deserve to win and who you'll share your Oztixmas gift with, by commenting on the post before 11.59 pm on the day the the post

-----

Terms and Conditions

Eligibility:
To be eligible for entry into '12 Days of Oztixmas' (the "Promotion"), all entrants must follow Oztix on Instagram, like the Daily Promotion Post for the given day during the Promotional Period and tell us why they deserve to win and who they'd share their Oztixmas gift with.

Instagram users must register likes and comments on the Daily Promotion Post before 11:59 p.m AEST on the same day to qualify as an entry for that Daily Entry Period.

Promotional Period:
12 Days of Oztixmas begins on 11th December 2017 and will end on the 22nd December 2017 (the "Promotional Period").

Daily Entry Periods:
There are twelve days ("Daily Entry Periods") within the Promotional Period. Each Daily Entry Period will feature an Instagram post beginning with 'On the X (insert number) Day of Oztixmas' (the "Daily Promotion Post").

The daily entry periods are as follows
Daily Entry Period 1: December 11, 2017
Daily Entry Period 2: December 12, 2017
Daily Entry Period 3: December 13, 2017
Daily Entry Period 4: December 14, 2017
Daily Entry Period 5: December 15, 2017
Daily Entry Period 6: December 16, 2017
Daily Entry Period 7: December 17, 2017
Daily Entry Period 8: December 18, 2017
Daily Entry Period 9: December 19, 2017
Daily Entry Period 10: December 20, 2017
Daily Entry Period 11: December 21, 2017
Daily Entry Period 12: December 22, 2017

Disqualifications:
There is a limit of one (1) entry per person per Daily Entry Period. Additional comments or tags will not disqualify you from entry but will not count as additional entries. If you enter or attempt entry more than the stated number of times or by any means except as permitted in these Official Rules, all of your entries will be voided and you will be ineligible to participate in the Giveaway. Entries generated by script, macro, or other automated means are void. You may not modify or edit your entry after it is uploaded.

Oztix reserves the right to remove and disqualify any comment for any reason.

Odds:
Odds of winning depend on the number of eligible entries received.

Winner Selection & Notification:
After the conclusion of each Daily Entry Period, for each Daily Entry Period Oztix will select one (1) potential winner in a random drawing of all eligible entries received for that Daily Entry Period, for a total of twelve (12) potential winners across the Promotional Period.

Oztix will attempt to notify each potential winner by Instagram Direct Message within seven (7) days. Contact information of the winner may be passed onto the Promotional Partner of the prize to arrange further prize details.

If a potential winner cannot be reasonably contacted, verified, or confirmed after two (2) attempts (and further attempts at Oztix's sole discretion), a prize is declined, or a potential winner is not eligible for award of a prize for whatever reason, an alternate potential winner may be randomly selected by Oztix from all remaining eligible entries.

Promotional Prizes & Approximate Retail Value:
There will be a total of twelve (12) promotional prizes available during the Promotional Period.

No transfer or substitution of prizes (or any portion thereof) or cash alternative permitted, however Ozitx and/or the Promotional Partner reserves the right to substitute a prize of equal or greater value in the event the advertised prize is unavailable. Limit one prize per individual.

Booking fees and dispatch of prizes within Australia (if applicable) will be paid for by Oztix.

General Terms
There is no purchase necessary to enter or win this Promotion.

This Promotion is in no way sponsored, endorsed or administered by, or associated with, Instagram. You are providing your information to Oztix and not to Instagram. The information you provide will be used for this promotion only and will not be shared with any other party outside Oztix, unless otherwise specified.