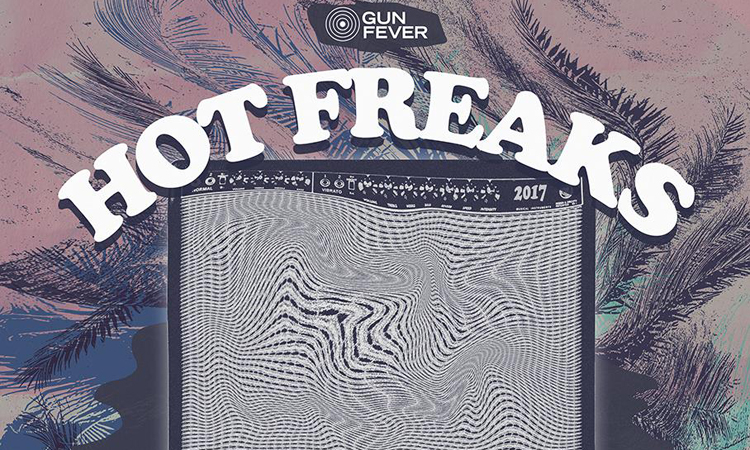 Perth indie rock spectacular Hot Freaks returns for its second year with a new venue and a gnarly lineup, taking over two stages at Badlands Bar on Friday May 19!

In their 8 years together, GRIM FANDANGO became the crown jewel of earnest, forthright punk in Perth. Across two albums, two EPs and a dozen singles, they refined a sound unto themselves - bleeding with emotional intensity, jangling guitar hooks and a relentless but inviting rhythmic barrage. Those records were Perth's answer to so many things depending on who you asked - The Smith Street Band, Frenzal Rhomb, Husker Du, Hot Water Music, The Replacements - which made it all the more disappointing when they announced their break-up in 2015 and the band spread across the country. Now, two years since their farewell performance, Grim Fandango return for a one-off reunion show - no tour, no new record; just scuzzy guitars, old friends and singalongs.

"Grim Fandango, one of Perth's best kept secrets." - The Music

After a near-decade in hibernation and over quarter-century since their formation, the re-emergence of Brisbane's SCREAMFEEDER is a welcome boon for Australian guitar rock. The songs on Pop Guilt - their forthcoming album due in mid-April - brim with shimmering, sun-soaked guitars, unapologetically catchy riffs and an unmistakable warmth. In a just world, it's the kind of release that'd put them in the same conversation as legendary guitar bands like Dinosaur Jr. - a conversation they should've always been a part of.

"Screamfeeder should be mentioned in the same breath as the Breeders, the Pixies, or the Throwing Muses when we think about high-class boy-girl revolutions in the alt-rock hemisphere." - Collapse Board

It's hard to believe it's been 20 years since RED JEZEBEL first appeared, but spend a few minutes revisiting the band's discography and you'll be reminded why they've stuck around so long. Be it their 2004 debut or 2015's Coup De Grace, these songs burst with document of compelling, melodic and atmospheric brilliance. Though their re-emergences on the live stage are fewer and further between, Red Jezebel remain one of the touchstones of Perth indie rock, with every show proving a can't-miss performance.

"This is melodic rock at its best." - Sydney Morning Herald

It's only early in the year, but FOAM's debut album might end up one of the best local releases of 2017. Coping Mechanisms is urgent, explosive and nuanced, recalling the best parts of Nirvana and Shellac, the kind of record that people will point to as part of this town's sonic zeitgeist in years to come. Their live shows are just as compelling - Joel Martin seemingly tests the limits of human vocal cords with each ardent scream, while conjuring the kind of snarling guitar tones that'd make Steve Albini nod his head in approval, all backed by a thunderous and razor-tight rhythmic one-two of bassist Harley Barnaby and drummer Jackson Hawdon. Don't forget your earplugs.

"A disorderly, deranged, intricate and beautiful beast." - X-Press

Even on record, it's easy to tell that Adelaide's SINCERELY, GRIZZLY pour blood and sweat into everything they do. What makes them so gripping is the sense that it could all fall apart at some point, and descend into some kind of cacophony of noise and screams. Yet it doesn't - somehow the trio harness their nervous energy and unwieldy melodies into a sublime catharsis as the ocean of anxiety beneath the waves reaches a gratifying climax of strained screams, flailing limbs and unrepentant chaos - the kind of thing best witnessed in the flesh.

"What Sincerely, Grizzly have achieved is pure resource of self-righteous energy that powers the listener to do what they please." - Blank

Every town has that small handful of bands that flew under the radar for most of their career, remaining obscure to the scene at large while earning a small but cult-like following of true believers - the kind that thrust a record to your chest and insist with a raised voice and unwavering gaze, you must listen to this. In Perth, THE LEAP YEAR sit right at the top of that list. Every note strikes like an emotional gut-punch - rarely is so much beauty and angst woven into guitar rock with such sophistication. Rendered live, these songs strike to the very core of what music ought to be - and given how rare The Leap Year step onto the stage these days, you'll want to be standing at full attention.

"In an alternate universe, The Leap Year are one of the biggest bands to ever come out of Perth." - Life is Noise

CHILDSAINT's 2016 single Hallelujah Heartache burrowed its way into ears nation-wide, earning a nods from RTRFM, triple j and WAM alongside supports slots for Swervedriver, Hinds, Totally Mild, and their later effort Used Up is just as engrossing - all smokey hooks, stirring melodies and intoxicating atmospheres. Whether it's on record or on stage, it's hard to find a group of musicians more consistently captivating than Childsaint.

"Expansive, nuanced and melodic, it seems these Perth newcomers are focusing on imprinting themselves on your heart." - NME Magazine

Rounding out the line-up for Hot Freaks 2017 are the slick, throwback sounds of SLY WITHERS, hardcore head-turners GLASS WAVE, punchy, punky power-pop trio RINEHEARTS and incoming emo heartthrobs JOYS.


HOT FREAKS 2017
Badlands Bar // 2 Stages
GRIM FANDANGO // SCREAMFEEDER // RED JEZEBEL FOAM // SINCERELY, GRIZZLY // THE LEAP YEAR CHILDSAINT // SHIT NARNIA // SLY WITHERS GLASS WAVE // RINEHEARTS // JOYS
Tickets On Sale Now