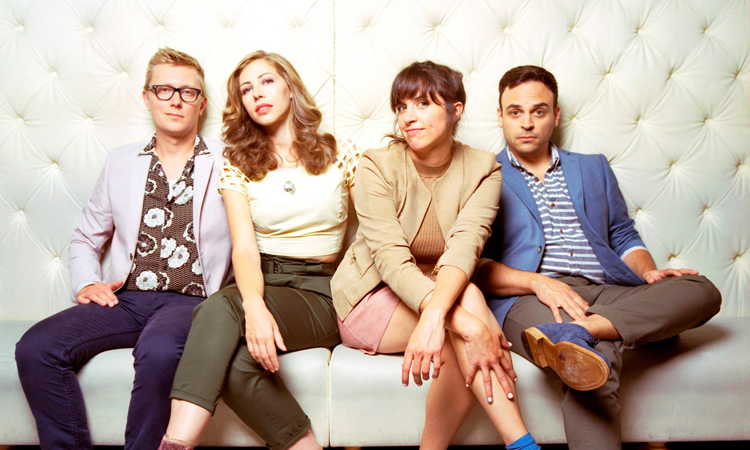 Now in its ninth year the New Year's Day event at Fremantle Arts Centre is a date never to be missed as the perfect alternative to a New Year's Eve frenzy or the perfect cure the day after one. This is always one of the feel-good events of the summer and 2017 is no exception as we stretch out on the grass under the trees or on the dancefloor to soul, pop, reggae, funk, afro and world music with great tunes, friends, food and drinks.
In 2017 our headline international artist is the perfect New Years Day fare - direct from Brooklyn New York we are thrilled to have
LAKE STREET DIVE
bring their warm, soulful pop grooves to the luscious lawns of the Fremantle Arts Centre.
LAKE STREET DIVE
sold out their debut WA performances in 2015 at Perth Festival Gardens and Vancouver Arts Centre in Albany. Check these couple of clips to see just how good this is.
Their legendary 4 million+ views sidewalk jam of
"I Want You Back"
,
"What I'm Doing Here"
,
"NPR Tiny Desk Concert"
,
"Seventeen"
.
And speaking of the FREMANTLE ARTS CENTRE – this great community arts venue also plays a big part in the vibe of this
Annual New Years Day
treat as it is one of the most perfect venues for New Years Day with its great location, lovely lawns, staff who love music, excellent facilities, tasty food, soft grass, cold beverages, big trees and generally amazing delivery of music events. Good times are totally and utterly guaranteed with this venue, this music, this date, a warm sun turning into a sweet moon and a nicely priced ticket to put respect and goodwill into your new year on the very first day.
The Bands

LAKE STREET DIVE (USA)
Australia & NZ fell in love with
LAKE STREET DIVE
on their debut tour in Feb/Mar 2015 and the now Brooklyn based US band have since released their new album "
SIDE PONY
" on Warner/Nonesuch and we are totally thrilled to announce they are back touring Australia/NZ this summer taking in Woodford Folk Festival, Summer of Soul, Fremantle Arts Centre New Years Day Concert and headline dates in Melbourne, Auckland, Adelaide and more. On the last tour they mesmerised audiences at WOMAD, Secret Garden Festival, Port Fairy Festival, Auckland Festival, Perth Festival (City & Albany dates), WOMAD NZ, Enlighten Canberra and many more and were an absolute highlight at these events so we can't wait to see and hear the warm, soulful pop grooves of one of the best live bands on the planet on their next Antipodean adventure. Almost the perfect start to 2017!
SOUKOUSS INTERNATIONALESoukouss Internationale
have been taking audiences by storm. They showcase high energy African dance beats with a sexy dance show. For the last 50 years Congolese music has been the hit sound all over the Africa, and with good reason: gorgeous vocal melodies, pumping afro-latin booty shaking rhythms and scorching guitar solos. Soukouss means "shake it"!
ODETTE MERCY & HER SOUL ATOMICS
Super tight, dynamic and with a reputation for one of the best live shows in WA, 6-piece soul act
Odette Mercy & her Soul Atomics
are a gritted up soul juggernaut. A busy few years has seen
Odette Mercy & her Soul Atomics
share the stage with the likes of Charles Bradley & The Menahan Street Band, Booker T Jones, Tom Jones, Seal, Alice Russell an dthe absolutely owned the stage at their Wave Rock Weekender debut in 2016. Bring dancing shoes or dancing thongs...
SUNSHINE BROTHERS
WA's own bit of Sunshine and the perfect New Years Day band are the resident band for this New Years Day Concert and for the 9th time they bring their super sweet, happy and laid back brand of reggae/funk/dub to their favourite lawn in Fremantle.
DJ BUTTER CHICKEN & FRIENDS
The mystical selector of the smoothest, souliest, deepest tracks available will keep things supremely chilled all night long between bands.
Cold drinks * Hot food * Great people * Soft grass * Dancing * Good times
1 Finnerty St, Fremantle 5.00pm – 10:00pm
Tickets On Sale Now