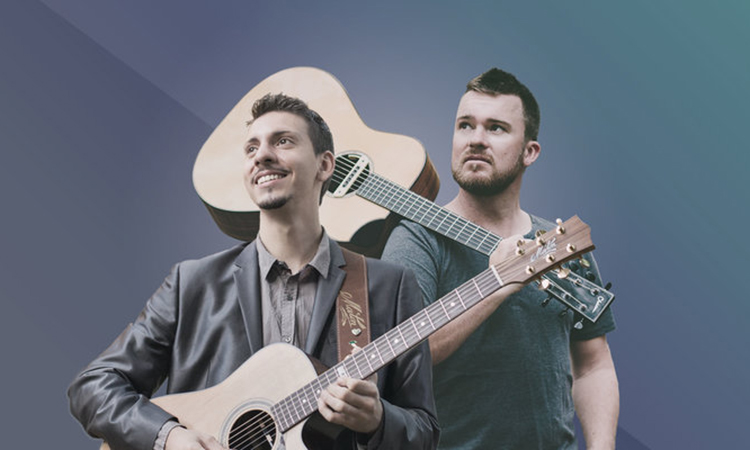 This December, Australia will discover why the rest of the world is wild for the art of fingerstyle guitar. Using ground-breaking techniques and a depth of composition unheard of, Queensland guitarist, Van Larkins is pairing up with Italian virtuoso, Andrea Valeri for a limited run of shows sure to astonish the East Coast.

Held in high esteem at home and abroad, Van Larkins is celebrating the Fingerstyle Concert Series with the release of 'Outback Storm', an iconically Antipodean song from his forthcoming album, Cinder Moon.

"I wanted to create something uniquely Australian, so I imagined a tropical storm emerging over the red plains of Australia...wild and unforgiving," said Van Larkins.

Recently 'sounding off' with him at Sunshine Coast music conference, Turn Up!, in what can only be described as a jaw-dropping display of sonic creation, Australia's greatest electric guitar player, Phil Emmanuel said, "Van Larkins doesn't just play guitar…he creates a beautiful musical soundscape. His application of musical cascades and original compositions shed new light to the term 'ear candy'."

Defying the eye when playing his energetic melodies, harmonies, percussion and bass with just 6 strings and a chunk of the finest carved wood, Van Larkins doesn't sing. He doesn't play drums. And there's no loop pedal. After all, why do any of that when he can make his acoustic guitar do it all?

Transforming what we traditionally consider a classical guitar style with musical influences like electronic, psych trance and 70s funk, it's no surprise that Van Larkins is spearheading this musical revolution.

"I experiment and use every possible part of my acoustic guitar to make music. It could be bending the neck to make that 'wah wah' sound or pushing my elbow on the back to create delay, while wiggling the capo for a whammy clav effect!" said Van Larkins, "It's just so much fun to see what I can do next."

Meanwhile, on the other side of the globe, a 25 year old guitar prodigy, Valeri, is very much the talk of the guitar world with his ever-evolving, experimental fingerstyle guitar, making this duo a match made in musical heaven, and a must-see this Summer.
Tickets On Sale Now
06.12.16
National Music Academy, Newcastle West
Buy Tickets
11.12.16
Hotel Blue & Conference Centre, Katoomba
Buy Tickets
16.12.16
Studio 188 (Old Baptist Church), Ipswich
Buy Tickets