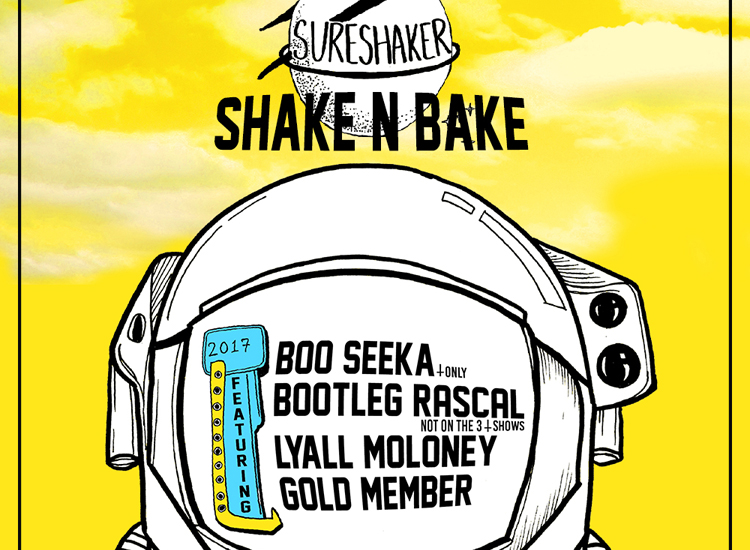 The second annual Shake 'N' Bake is back, slightly bigger than last year, and the crew's all present and accounted for, with Bootleg Rascal, Boo Seeka, Lyall Moloney and Gold Member all making appearances in both their native shapes and in a couple of different shapes. We're making it a celebration of sorts to toast to the musically drunken year we've had for the Sureshaker fam.

Bootleg Rascal will have a single out before the Shake 'N' Bake tour begins and will be slinging around a few fresh tunes for the summer. They've been jetting around in Europe and the States with the... Sticky Fingers these last 12 months and are looking to head back over to the States for their own tour in March 2017.

Boo Seeka will have capped off a massive 2016 in their hometown of Newcastle at NYE Street Party. And what a year they've had with a few sold out national tours and an incredible 3 months touring Stateside with Cherub. They'll only be joining the Shake N Bake tour for the first three shows.

Lyall Moloney has also had a great year touring round Australia with Tash Sultana, Ivan Ooze and Sticky Fingers. He'll also have fresh beats for the Shake N Bake tour.

Gold Member, are a new addition to the Shaker fam and will be experiencing their first Shake N Bake!

Come, join us all and show 'em all a good time at these shows! They'll be bringing the heat this summer. Their single Rope Swing and Stick The Moon are just a small taste of what's more to come...
Tickets On Sale Now