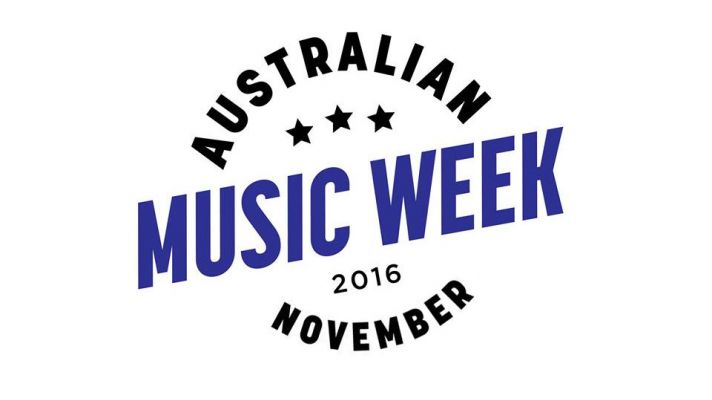 Australian Music Week
will play host to Australia's leading industry figures, and includes personnel from record labels, producers, touring companies and much more. For full list of speakers and panel timetable head to
www.australianmusicweek.com
Here is the full artist line-up:
Allan Smithy | Amber Rae Slade | Bearfoot | Bella Hardy (Scotland) | Betty & Oswald | Big Erle | Bootleg Rascal | Brielle Davis | Bush Gothic | Catherine Britt | Cheap Fakes | Chris Cain (USA) & Ray | Baedle | Claire Anne Taylor | Claude Hay | Colin Jones & The Delta Revue | CONTROL | Cubans In Whistler | The Delta Riggs | Damien Leith | De'May | Demi Louise | Diesel | Dog The Duke | Dog Trumpet | DOS // ENOS | Fanny Lumsden | Fox Holmes | Fripps & Fripps | Garrett Kato | Goo | Hannah Robinson | Hayley Couper | Hedge Fund | Hollow Coves | I Am Apollo | IVY | Jake Meadows | James Thomson and The Strange Pilgrims | Jason Kearney | Jen Mize | Jeff Martin (Tea Party) With Terepai Richmond | Jodi Martin | Joel Leffler | Kay Proudlove | Key to the Highway | KNOX | Lachlan Bryan | Lepers & Crooks | Letters to Lions | Little Georgia | Lindsay Broughton (Canada) | Luke O'Shea | Mark Lang | Mat McHugh (The Beautiful Girls) | Matt Stillert | MVRKS | Poor Nameless Boy (Canada) | Red Wine Roses | Rich Aucoin(Canada) | Rita B | Rory Ellis | Sarah MacDougall (Canada) | Stay At Home Mum | Taasha Coates | Talisk (Scotland) | Tall Hearts | Tay Oskee | Tenderfoot | The Game River | The Kava Kings | The Mae Trio | The Moving Stills | The Weeping Willows | Uncle Axel | Vince Jones | Vince Purcell | Waza | White Blanks | William Crighton | Youngblood (Canada)
The conference program will include panel topics outlined below.
SOUNDS AUSTRALIA PRESENTS: BEST IN SHOWCASE
Showcasing your artist at industry conferences such as SXSW, The Great Escape, Womex, Folk Alliance or Canadian Music Week can open doors into other markets, but can also be a costly exercise. Our panel of experts discusses the opportunities that are out there, how to tell if an artist is 'export ready' and how to maximise your chances once you're on the ground.
THE COPYRIGHT 101 PANEL
Copyright, publishing and sync are often a daunting topic for the uninitiated, and many artists miss out the potential earning power of their songs just because they might not understand how it works or what is possible. In this panel, our copyright experts shed some light and give advice on how to get the most out of your intellectual property.
THE APPOINTMENT GROUP PRESENTS: GETTING YOUR SHOW OVERSEAS
So you've got yourself a gig overseas, that's where the fun begins. Join international touring experts as they present a master class covering visa requirements, contracts, getting paid, their own war stories and more. Everything you'll need to know about international touring to the US, Canada, UK, Europe and New Zealand.
APPROACHING RADIO
How do I get my song heard? In this session, we talk about how to approach radio with new music and how to establish and build relationships. We'll also look at the multiple platforms and possibilities offered by radio, from community stations through to national broadcasters. Get your music heard!
OZTIX PRESENTS: BUMS ON SEATS - THE EVENT MARKETING LANDSCAPE
Getting people out to a show has always required the right mix of marketing activities - social and digital media, press, posters and flyers, word of mouth, and good luck. Join our panel of marketing gurus as they discuss the latest tips to get your tour, gig, or festival noticed in the ever-competitive quest for the audience's attention.
SUCCESS!
What does it take to achieve long-term success in the music industry? In this panel, we talk with successful people at the top of their game. How did they get there? How do they stay there? And where are they headed next?
THE RISE OF STICKY FINGERS, IN CONVERSATION WITH NEAL HUNT
Sydney band Sticky Fingers has walked the path from the pubs of Newtown to major venues all over the world. Join manager Neal Hunt as he recounts the tale of their epic journey. The deals done, the lessons learned and the hearts broken along the way.
ARTISTS AND REPERTOIRE
In this session, we talk about the role A&R plays in this world of the self-released artist. How do labels make choices about what to sign? How hands-on should the company be? Do artists already need to have their own momentum going before a label is interested?
BREAKING AN ARTIST WITHOUT BREAKING YOURSELF
Artist Managers have one of the most rewarding but demanding jobs in the music industry. In this session, we meet managers who have success in common and discuss how they manage priorities and goals as they develop and push their artists' careers forward.
WSI TAFE PRESENTS: PRO MUSO ROUNDTABLE
The music industry (and most music conferences) focus on 'Artists' - those rare, beautiful and inspired beasts who weave the magic in all our lives. But in most cases just to the left of the 'Artist' stands a working musician, someone who's trained their whole life to be in that spot. In this roundtable discussion, we put a spotlight on professional freelance musicians - their experience of working with different artists, the road that took them there, and what you should know about them if you want to hire them for your next project.
MEET THE PROGRAMMERS
In this session we meet people who make the call about what artists to hire and program at festivals and venues of all shapes and sizes. What influences their buying decision? Where do they look for new talent? How do they stay current with audience tastes? How do they meet their budgets, and more...
MUSICNSW PRESENTS: OFF THE BEATEN PATH - REGIONAL POSSIBILITIES
It seems these days, that for many artists, a 'National Tour' consists of shows in Brisbane, Sydney, Melbourne, Adelaide, and Perth. In this session our panellists discuss the rich possibilities that regional markets have to offer, and how to get the most out of regional touring and events.
IN CONVERSATION WITH JED HILLY, AMERICAN MUSIC ASSOCIATION
Americana has taken the US and the world by storm! The genre of Americana now has its own Album Sales Chart in both the US and the UK, and The Grammys have recently created 3 awards for artists in the genre. Much of this is due to the work of The Americana Music Association, which started as a group of 30 individuals and has gone on to be hugely influential worldwide. We're lucky to have Executive Director of the Americana Music Association Jed Hilly joining us for a discussion about the past, present and future of Americana around the world.
BOOKING AGENTS' ROUND TABLE
With live performance becoming an ever-increasingly important source of an artist's income, working with the right booking agent is crucial. But do you need one? How do you get one? What do they do, what don't they do? Join our panel of booking agents as they discuss the climate within their segment of the music industry and the issues they face when finding the right shows for their artists.
STUDIOS 301 PRESENT: DEMO TO MASTER - THE PRODUCER PANEL
For producers, juggling the expectations of the label, the artist, their management and the market is all in a day's work. Join a panel of happening producers as they get together to play and talk about some of their favourite projects and discuss how tracks ended up the way they did.
GRANT FUNDING NOW!
The arts funding landscape has taken some well-publicised twists and turns in recent times, but remains an important source of income for artists at all stages of their careers.Join us for an info session and Q&A about the different types of grants available to you and what you need to do to get one.
Alongside the main conference, AMW is hosting some extracurricular sideshows, including the HiFi Days Festival, which is free entry for all ages. The festival will have a fully licensed area, delicious gourmet food available and boasts an impressive line-up including:
The Delta Riggs, Jeff Martin (of The Tea Party with Terepai Richmond), Bootleg Rascal, Letters to Lions and Betty
&
Oswald
Tickets On Sale Now
02.11.16 - 04.11.16
Various Venues, Cronulla NSW
Buy Tickets