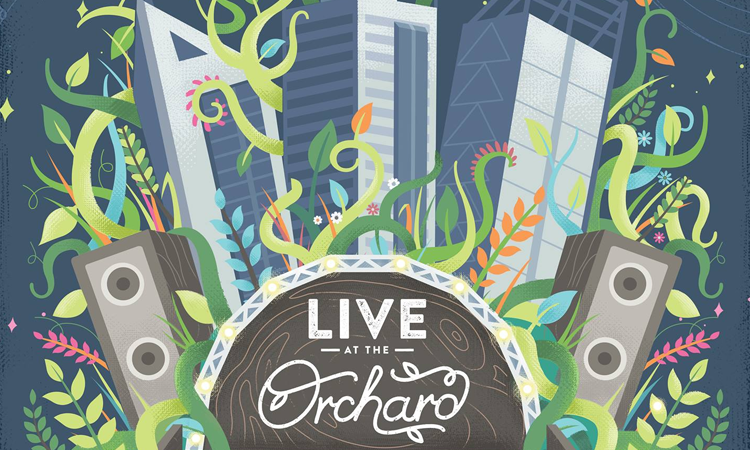 After a huge first season in the closing months of 2015, the Live At The Orchard series returns for a second year with a diverse range of artists to cater to every musical palette.

Set in the living and breathing surrounds of the Bar Pop Urban Orchard, the aptly named Live At The Orchard will bring a series of nights featuring the hottest music and the most delicious eats and treats this November and December.

Kicking off the series is Amy Amy Amy, a soulful evening highlighting the best of the revered songstress Amy Winehouse. After five sold out shows at Jimmy's Den and The Ellington Jazz Club, WAAPA graduates will perform tracks from albums Frank and Back to Black playing tribute to the talents of the much missed superstar.

Brisbane's Regurgitator started in 1994 and quickly established themselves as an articulate and witty purveyor of the Australian music scene – assembling mishmash of funk, punk, pop, electronics and any other style that stuck to the sides... with unmitigated irony and a geekish nature. With a huge back catalogue to choose a set list from, the 'Gurge will deliver all killer, no filler. They'll be supported by local legends Sugar Army, who've just released their third studio album BEAST to welcoming ears.

For the 2nd year coming, King Gizzard and the Lizard Wizard have curated their own event, GIZZFEST, which tours around the country. We're stoked that they'll be stopping in at Live At The Orchard, bringing some incredible mates along for the ride, including POND, White Fence (USA), The Murlocs, Mild High Club (USA), Boulevards (USA) and Dinner (DEN). Freakin' huge!

Australia's favourite troubadours Josh Pyke and Bob Evans have teamed up to tour "Another Evening with Josh Pyke and Bob Evans", taking their tunes around the country. Having toured together a decade ago, we're thrilled to be hosting the Perth leg of their latest journey. Each ticketholder will receive a free download of the exclusively recorded tracks What The Future Holds and Desperate both performed by the pair.

Darren Hart, better known as Harts, is a musician, singer-songwriter, multiinstrumentalist, composer and music producer from Melbourne. Often labelled as a one-man-music-making-machine, he writes everything, plays all the instruments, records and produces all his music singlehandedly in his bedroom studio. Harts needs to be seen as well as heard – his live show is phenomenal and has been praised by non other than Prince who in 2014 said "He reminds me of how I was at that age".

Pierce Brothers have taken their music from busking on the streets of Melbourne to the world. Their irresistible energy and world-class live show has generated a word of mouth buzz not seen for sometime. The acclaimed live act has been shaking dance floors and selling out rooms across the world and on home ground. Comprising of twin brothers Jack and Pat Pierce, the multi instrumentalists have sold over 50,000 EP's independently.

With two gold records and a literal handful of ARIA Music Award nominations under his belt, it's no secret that Drapht is a songwriting prodigy. Whether you focus on his lyrics or his melodic hooks, Drapht can pretty much do everything. Each of his four albums has brought increasing levels of complexity and refinement, ascending Drapht to the absolute upper echelon of Australia's stacked card of hip-hop heavyweights. His latest release Seven Mirrors sees friends Dune Rats, Hilltop Hoods, Nat Dunn and more put their hands up to feature on the record.

The food and beverage menu for 2016 is as huge as the line up with Gage Roads Brewing Co & Batlow Cider off tap, wines from Cape Mentelle, Cloudy Bay, Moet & Chandon, Dom Perignon and more. Add to this food from some of Perth's best restaurants including Lot Twenty, Wok St Chow House, FIVE Bar and Ria Malay Kitchen, there are offerings to satisfy all tastebuds.

Tickets to all shows are on sale now and are selling quickly!
Tickets On Sale Now
26.11.16
REGURGITATOR
with special guests Sugar Army
Buy Tickets
04.12.16
GIZZFEST 2016
featuring King Gizzard and the Lizard Wizard, POND and more
Buy Tickets
10.12.16
HARTS
with special guest Benjamin Witt
Buy Tickets
11.12.16
PIERCE BROTHERS
with special guests These Winter Nights
Buy Tickets
18.12.16
DRAPHT
with special guests Mathas and The Brow
Buy Tickets