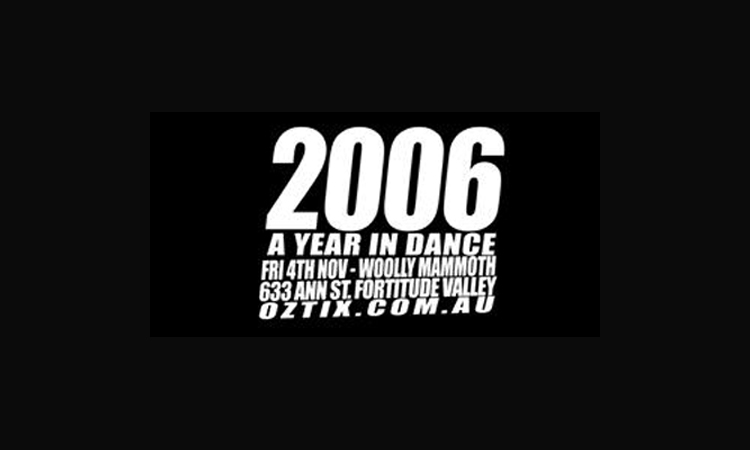 BACK ROOM: 2006 INDIE DANCE/BANGERS



Following on from legendary parties across Australia, it's time once again for Brisbane to turn back the clock... You're invited to party in the past, this time it's 2006 where Daft Punk are beginning their Alive tour and back home Sneaky Sound System, Riot In Belgium and Midnight Juggernauts are releasing floor-fillers. Expect two rooms of only the best classics from that year with party tunes in the front room and legendary bangers in the back room.



Boys Noize // Surkin // Klaxons // Chromeo // Soulwax // Justice // Mystery Jets // Daft Punk // Spank Rock // Kavinsky // Arctic Monkeys // New Young Pony Club // Phoenix // Tomas Andersson // Bonde Do Role // Van She Tech // Switch // Mason // Tiga // MSTRKRFT // Busy P // SebastiAn // Spank Rock // K.I.M. // The Killers // The Presets // Riot In Belgium // The Similou // Dangerous Dan // Bloc Party // Booka Shade // The Rapture // Uffie // Simian Mobile Disco // LCD Soundsystem // Sneaky Sound System // Riot In Belgium // Franz Ferdinand // Hot Chip // Diplo // Fedde Le Grand // The Gossip // Cassius // Royksopp // Claude VonStroke // Peter Bjorn & John // Thin White Duke // Para One // Erol Alkan



PLUS A ROOM OF 2006 PARTY CLASSICS!



FRONT ROOM: Music from The O.C

What would The O.C. be without its soundtrack? It was as significant as Ryan, Seth, Marissa and Summer... With an identity and attitude of its own, it saw us through every party, fight, goodbye, wedding and death. California has become more of an anthem than a song, leaving every listener swimming in O.C. nostalgia, while Wonderwall left us swept off our feet by Seth Cohen, and Forever Young, bittersweetly defined Marissa and Ryan's relationship.

We will always remember Ryan and Marissa's dance to Maybe I'm Amazed at one of Julie Cooper's many weddings... And of course we'll never forget Season 2's finale... The gunshot triggering the start of Imogen Heap's Hide and Seek still gives us chills...

Join us as we pay tribute to the T.V. series we'll never stop binge watching, the soundtrack we'll always love, and the show we'll never forget.
Tickets On Sale 5th Oct