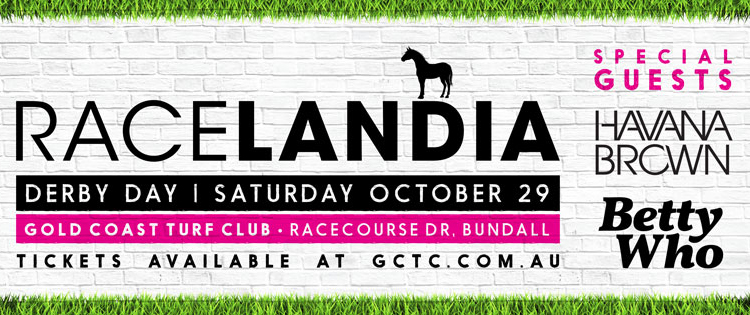 Gold Coast Turf Club announced today that their new look, trackside entertainment precinct, RACELANDIA will be officially launched on Derby Day, Saturday October 29.

Bringing together fashion, food, art, culture, drinks and non-stop entertainment, RACELANDIA is the perfect place for race-goers to immerse themselves in the electric atmosphere of Derby Day.

The RACELANDIA precinct is expected to attract a party crowd, with the nation's top female DJ's; Mandy Onassis; Just Jessie; Georgie Baby and Sarah Wilkinson taking over the Red Bull Sound Stage from 1pm onwards.

With giant TV screens, pop up cocktail bars, food trucks and art installations, punters at RACELANDIA will have plenty of options.

Special guests HAVANA BROWN and BETTY WHO will be performing live - Betty Who delivering her smash hit 'I Love You Always Forever' - currently on high rotation across Australian radio & Havana Brown performing her brand new single 'Like Lightning'.

GCTC spokesperson Lisa Lees said RACELANDIA would add to the excitement of Derby Day. "This is a brand new concept for us and we're really hoping it will become a permanent fixture. We're introducing new elements including a silent disco, live entertainment, and bringing fashion, art and music to the fore."

Guests can choose from three hospitality packages starting at $69 for GA, $95 for the Silver Package and $165pp for the all-inclusive Premium Marquee package.
Tickets On Sale Now