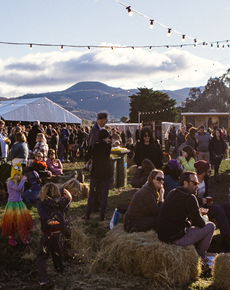 Buy Tickets
Tasmania's leading food and beverage producers will be serving up a mouth-watering range of offerings over three days of pagan-inspired fireside feasting at the Huon Valley Mid Winter Festival this 15 – 17 July. Held at The Apple Shed and run by local, organic cider makers Willie Smith's, the Huon Valley Mid Winter Festival stallholders are on a mission to warm up the Tassie winter with award-winning cider and boutique beers, slow-roasted locally sourced meats, comforting cheese fondue and wood fired offerings, as festival-goers honour the ancient ritual of 'wassailing' to warn off bad spirits and awaken dormant apple trees for a plentiful harvest.

For three days, the Huon Valley will ignite with a delicious selection of premium produce featuring pop up bars, restaurants and food trucks to feed the masses. The mouth watering highlights include:

Willie Smiths Organic Cider
As the masterminds behind the Huon Valley Mid Winter Festival, Willie Smith's Organic Cider will be ever present amongst festival goers. A family business with the first orchards planted in 1888, the Willie Smith's team understand the dedication it takes to produce a flavoursome, timeless cider.

Lark x Overeem Distilleries
Two of Tasmania's finest whisky distilleries are joining forces to unveil a pop up bar inside The Apple Shed where owners Bill Lark and Casey Overeem will be chatting to punters while they taste an exclusive Lark Single Malt Whisky Limited Release Apple Brandy alongside the warming Overeem Single Malt Whisky.

Fat Pig Van
Known as the Gourmet Farmer, local legend Matthew Evans will be bringing his bright red Fat Pig Van to the Huon Valley Mid Winter Festival this July to serve up a succulent array of paddock-to-plate dishes including free-range pork, sausages and a farmhouse plate with hardwood smoked ham and vegies picked straight from his farm in the Huon Valley.

Spotty Dog Brewers
An emerging Hobart based craft brewing and food company, Spotty Dog Brewers will be lighting up an American styled BBQ to warm the cockles of Tasmania's winter nights. Rolling in with their half tonne food truck, affectionately known as 'The Hound', these brewers will be firing up their American hickory and oak wood fires to produce classic 'dude food' including 14 hour smoked pulled pork and brisket topped off with Mac n Cheese and Southern Fried Chicken.

Tasman Quartermasters
Brainchild of owner Stu Addison, Tasman Quartermasters will take over the Willie Smith's wood fired oven to cook up a festival feast including organic cider cheese fondue, apple wood smoked 55 hour beef, cider vinegar sauerkraut and cider foam bedecked Huon Valley pork served by their collection of chefs, louts and wenches who wouldn't look out of place on the set of Vikings.

Black Box Kitchen
Accomplished chef, Paul Foreman, will be housed in a retro 1980s Newman Caravan to bring festival-goers Black Box Kitchen's signature 'Boxed Bread'; a heavenly hybrid of profiterole meets Yorkshire pudding. The chewy, cheese bread is baked onsite and is filled with delicious confit duck, jerk pork, Huon smoked salmon, local apples and more.

The delicious food and beverage line up is complete with Mountain Pepper Pizza, Lady Hester sourdough donuts, Nichols Rivulet Organic Farm, Cygneture Chocolates, Saffron Hearth handcrafted paella, Grandvewe Cheeses, Something from the Ground blueberries, Our Little Vegan Kitchen , Flamecake, Taco Taco, and The Cake Kombi.

A limited number of first release tickets for the 2016 Huon Valley Mid-Winter Fest are on sale now and cost $10 per person on Friday, $20 per person on Saturday and $5 per person on Sunday. A weekend ticket which allows access across all three days is also available for $35 per person. For more information and to purchase tickets visit www.huonvalleymidwinterfest.com.au.
Tickets On Sale Now