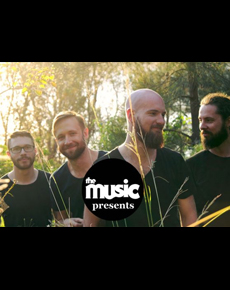 Buy Tickets
Sydney post-rock luminaries sleepmakeswaves have announced a nine-date national tour with American contemporaries The Contortionist in honour of the Aussies' new single Traced In Constellations, taking their 2016 performance schedule up to 55 confirmed shows already.

Kicking off at Perth's Rosemount Hotel on Thursday 4 August, the tour — which is proudly presented by The Music — will roll through stages in Adelaide (The Gov, 5 August), Melbourne (Max Watt's, 6 August; Corner Hotel, 7 August), Wollongong (Uni Bar, 8 August), Newcastle (Cambridge Hotel, Wednesday 10 August), Canberra (ANU Bar, 11 August), Sydney (Metro Theatre, 12 August) and Brisbane, where the roadshow comes to a close at The Triffid on Saturday 13 August.

Traced In Constellations is taken from sleepmakeswaves' lauded full-length Love Of Cartography, the buzz for which they're riding through a North American tour with their Aussie tour mates and UK/US heavyweights Monuments in the lead-up to their home-country jaunt. While here, The Contortionist will be similarly touting a recent album, their new long-player Language, which has helped assert the US outfit as one of the planet's most hyped experimental rock acts.

The pair of bands will be joined for all shows on the tour by West Australian experimentalists Tangled Thoughts Of Leaving, who themselves are riding high following the release of their excellent 2015 album Yield To Despair.
Tickets On Sale Now
05.08.16
The Gov, Hindmarsh
07.08.16
Corner Hotel, Richmond
08.08.16
Uni Bar, Wollongong
10.08.16
Cambridge Hotel, Newcastle West
11.08.16
ANU Bar, Canberra
12.08.16
Metro Theatre, Sydney