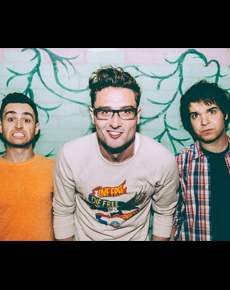 Buy Tickets
New York pop punk mavens Cute Is What We Aim For have been largely inactive over the last six or so years, but that's all about to change as the band have announced a 10 year anniversary tour of their classic, The Same Old Blood Rush With A New Touch, headed straight for Australia this August.

Announcing the milestone on Facebook, the band's frontman and mastermind Shaant Hacikyan wrote, "Growing up, none of us thought we'd ever release a full length album, let alone have the chance to fly across the earth to headline a 10 year anniversary tour.

"You are responsible for making the dreams of 3 clueless kids become a reality. As you can see, words cannot convey what I'm trying to say so it looks like we'll have to play some shows so we can show you in person."

The band, currently touring as a trio, will head to Adelaide, Melbourne, Brisbane and Sydney from 19 August to play their catchy-as-hell debut in full — The Curse Of Curves, Moan, There's A Class For This and all.

The band will play one AA show in Adelaide, before playing an 18+ show at the Evelyn in Melbourne on 20 August and an AA show at the same venue on 21 August. Brisbane's 18+ show will be on 25 August at The Brightside, while their U18 show will be held on 26 August at 38 Berwick Street. Sydney will have both shows at the Factory Floor — their 18+ show on 27 August and their AA show on 28 August.
Tickets On Sale Now
27.08.16
Factory Theatre, Marrickville
28.08.16
Factory Theatre, Marrickville