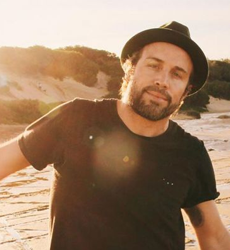 Buy Tickets
The Beautiful Girls frontman Mat McHugh is looking to bounce back from injuries sustained last year with a run of solo headline shows around the country this May and June.

While McHugh had plans to tour Australia back in September last year, that jaunt was aborted after a few shows following "extensive neck and back injuries" that left the veteran muso unable to even play an instrument.

"I'm still on the road to recovery but I'm feeling a lot better than I was five months ago," McHugh said in a statement. "I've been working hard every single day and changed my lifestyle a lot so the whole experience has turned into a positive."

Now, with a successful stint on TBG's Summer Sound System tour behind him — albeit as vocalist only, due to persistent risks of playing an instrument — McHugh is shaping up to complete his first solo headline Aussie run in a few years in just a couple of months, and he's not half-arsing it by any stretch.

He'll kick off at Katoomba's Baroque Room on Friday 13 May, before the tour heads to stages in: Mona Vale (Mona Vale Hotel, 14 May), Bulli (Heritage Hotel, 15 May), Newcastle (Lizotte's, 27 May), Bellingen (5 Church Street, 28 May), Byron Bay (The Northern, 29 May), Brisbane (Black Bear Lodge, 2 June), Mooloolaba (The Wharf Tavern, 3 June), Gold Coast (The Sound Lounge, 4 June), Henley Beach (Ramsgate Hotel, 9 June), Adelaide (Jive, 10 June), Perth (Jimmy's Den, 16 June), Fremantle (Mojo's Bar, 17 June), Scarborough (Indi Bar, 18 June), Dunsborough (Clancy's, 19 June), Cronulla (Brass Monkey, 24 June), Sydney (Newtown Social Club, 25 June), Belgrave (Sooki Lounge, 30 June), Geelong (The Workers Club, 1 July), Melbourne (The Toff, 2 July), Frankston (Pelly Bar, 3 July), Airlie Beach (Magnum's, 7 July), Townsville (Flinders Social, 8 July) and, finally, Cairns (Tank Art Centre, 9 July).

McHugh will be showcasing most recent album Waves on the impending jaunt alongside faves from his previous efforts Love Come Save Me and Seperatista!.

"I'm super excited to have the chance to go out on the road and play all these songs," McHugh said in a statement. "Particularly the songs from Waves. I feel like it's my favourite album that I've made, and I really can't wait for people to hear what it sounds like live."
Tickets On Sale Now
15.05.16
Heritage Hotel, Bulli
28.05.16
5 Church Street, Bellingen
29.05.16
The Northern, Byron Bay
03.06.16
Wharf Tavern, Mooloolaba
04.06.16
Soundlounge, Currumbin
09.06.16
Ramsgate Hotel, Henley Beach
16.06.16
Jimmy's Den, Northbridge
25.06.16
Brass Monkey, Cronulla
25.06.16
Newtown Social Club, Newtown
02.07.16
The Toff In Town, Melbourne
03.07.16
Pier Hotel, Frankston
07.07.16
Magnums Hotel, Airlie Beach
08.07.16
Flinders Social, Townsville
09.07.16
Tanks Arts Centre, Edge Hill