FESTIVAL
UNIFY Festival
A Heavy Music Gathering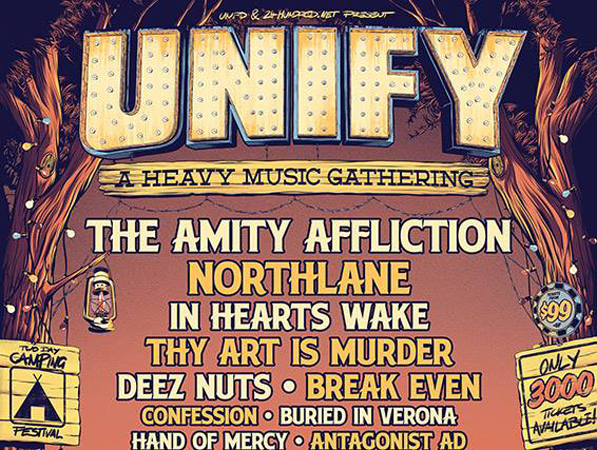 UNIFY is a two day boutique camping and music gathering set in the beautifully picturesque pastures of South Gippsland, a relaxed two-hour drive from Melbourne. The site is set across a secluded Recreation Reserve surrounded by greenery and just a short 10 minute drive from the ocean.

The concept is to create a community driven event of 3000 punters across the Punk, Hardcore and Metal world, with an all Australian lineup that showcases the quality and diversity of our heavy music culture. The site includes a camping area, full Stage and Production setup, BYO and Licensed areas, and a punter friendly atmosphere.

UNIFY was created by two like-minded companies who shared a vision for making a boutique heavy music event - UNIFIED and THE HILLS ARE ALIVE.

UNIFIED is the company responsible for record label brand UNFD and merchandising company 24 HUNDRED, among other things. Both brands have become synonymous with Australian heavy music, meaning it is no surprise that they involved in bringing UNIFY to life.

THE HILLS ARE ALIVE hosts two boutique camping festivals each year, NYE ON THE HILL and THE HILLS ARE ALIVE. Their creative approach to event planning has seen them sell out every one of their festivals and through impressive programming they have become renowned for their discovery of new talent.

UNIFY is a concept that has been two years in the making. After scouring many sites across Victoria, we found the perfect location and can't wait to share it. With the support of the local Tarwin Lower community behind us and the incredible enthusiasm shown by all of amazing artists involved, everything is set for UNIFY to be the perfect start to 2015.


UNIFY: A HEAVY MUSIC GATHERING
THE AMITY AFFLICTION
NORTHLANE
IN HEARTS WAKE
THY ART IS MURDER
DEEZ NUTS
BREAK EVEN
CONFESSION
BURIED IN VERONA
HAND OF MERCY
ANTAGONIST
HELLIONS
STORM THE SKY
ENDLESS HEIGHTS
AVERSIONS CROWN
STORIES
ELECTRIK DYNAMITE
EARTH CALLER