NEWS
Wide Eyed Live
Last Summer in Live Music - A Photographic Exhibition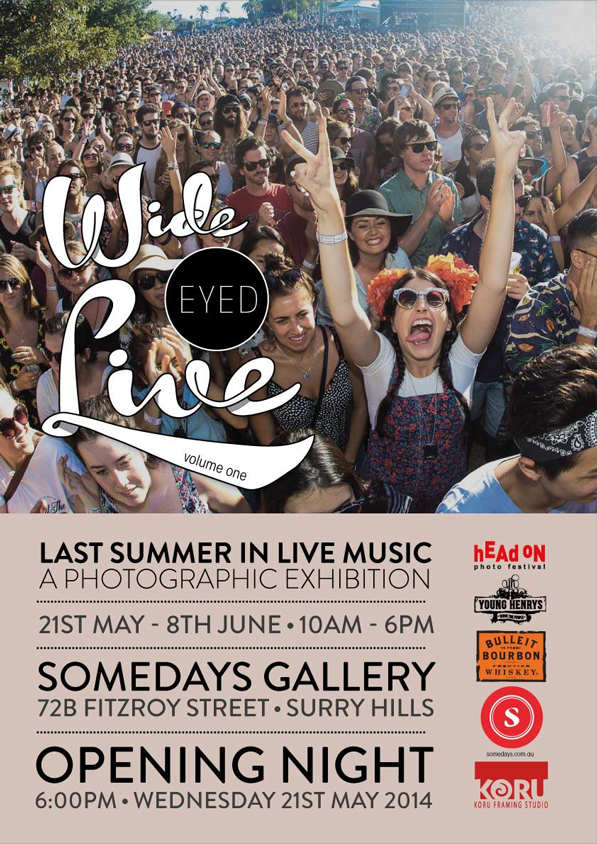 This is the first of hopefully an annual exhibition where 12 of Sydney's Music Photographers come together to showcase their unique retrospective of the Summer music festival scene in Sydney.

The show's mission statement is:
Sydney has a vibrant music scene. It's our job as Music Photographers to show the energy and passion that is alive within it. This exhibition is a retrospective of the Summer just gone, of the Festivals we covered and the scenes we documented. You may have seen some of these images online, or in print. However this is our attempt to show cohesively what Live Music brings to this city - the often crazy mix of incredible live acts, the extravagant stage productions and the dedicated fans who wait hours to see them. This is what we have witnessed from November 2013 to March 2014.

Photographers featured are Clare Hawley, Josh Groom, Geneva Valek, Gwen Lee, Yaya Stempler, Phil Erbacher, Peter Dovgan, Scott Gallagher, Thomas Graham, Russell Privett, Peter Sharp and Maria de Vera.

The exhibition runs from May 21 until June 8, and is open from 10am to 6pm at Somedays Gallery in Surry Hills.

Come along to see some fantastic images of international and local artists. Who knows, perhaps they caught you in a crowd shot?