FESTIVAL

UNFD, Hysteria and NMA Management present
The Rampage Tour 2014
Featuring Deez Nuts, Confession and Hand Of Mercy with special guests Thorns!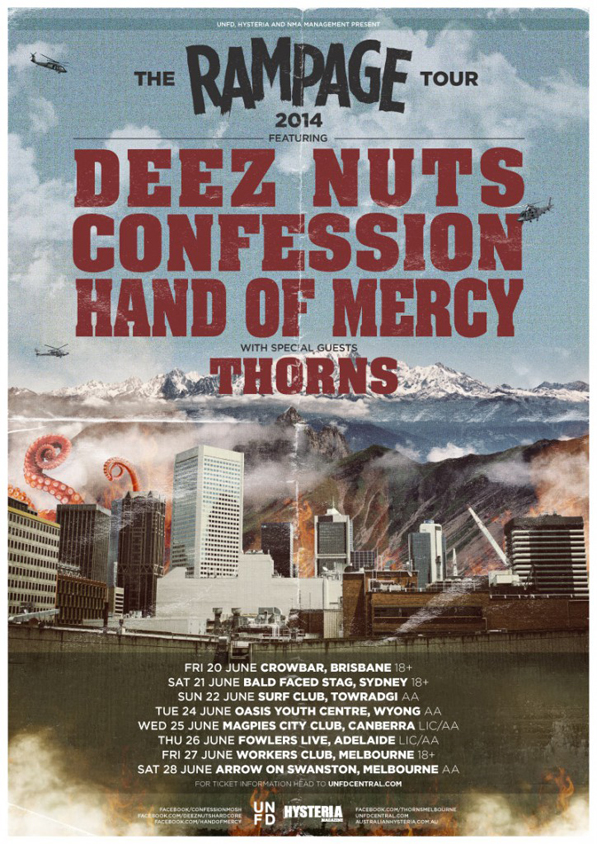 The hard touring and even harder partying DEEZ NUTS need little introduction. Coming off appearances at Soundwave Festival and a European tour with Terror, their 2014 shows no signs of slowing down with the DTD crew bringing the good vibes off their killer BOUT IT album to the Rampage bill.

To keep those good times rolling, long time friends CONFESSION and DEEZ NUTS will be flipping a coin each night to determine who will headline the show.

CONFESSION have been locked in the studio since appearing at Vans Warped Tour in December, slaving over the creation of their follow up to 2011's THE LONG WAY HOME. The Rampage Tour will be the band's first shows in a long time so they'll be kicking out the jams in preparation for unleashing their new mosh masterpiece on an unsuspecting world.

HAND OF MERCY have been quietly catching their breath after a massive year that saw them crisscross Europe, the UK and Australia multiple times with The Ghost Inside, Bleeding Through, Emmure, Attila, Northlane and Comeback Kid as well as appearing at the Vans Warped Tour and Hit The Deck festival plus squeezing in the recording of their third full length. Phew. This year has seen a line-up change for the band with the departure of vocalist Scott Bird. The Rampage Tour will be the first time fans will see the band with the new vocalist, who will be revealed just prior to the tour! Hand of Mercy will be doing what they do best, destroying stages, all up and down the coast as part of the Rampage Tour.

Melbourne heavyweights THORNS will be opening up the Rampage chaos, their brand new record FROM TEARS TO GLORY getting the hardcore faithful pumped alongside touring with Warbrain, Brutality Will Prevail and stand out sets at Break The Ice and Sike Your Mind.
Tickets On Sale MAY 5!
| | | | |
| --- | --- | --- | --- |
| 20.Jun.14 | Crowbar, BRISBANE | QLD | |
| 21.Jun.14 | The Bald Faced Stag, LEICHARDT | NSW | |
| 22.Jun.14 | Towradgi Surf Life Saving Club, TOWRADGI | NSW | |
| 24.Jun.14 | Oasis Youth Centre, WYONG | NSW | |
| 25.Jun.14 | Magpies City Club, CANBERRA | ACT | |
| 26.Jun.14 | Fowlers Live, ADELAIDE | SA | |
| 27.Jun.14 | The Workers Club, FITZROY | VIC | |
| 28.Jun.14 | Arrow On Swanston, CARLTON | VIC | |