Festival
Village Sounds & Secret Service Present
Splendour In The Grass
2014 Festival Lineup Announced!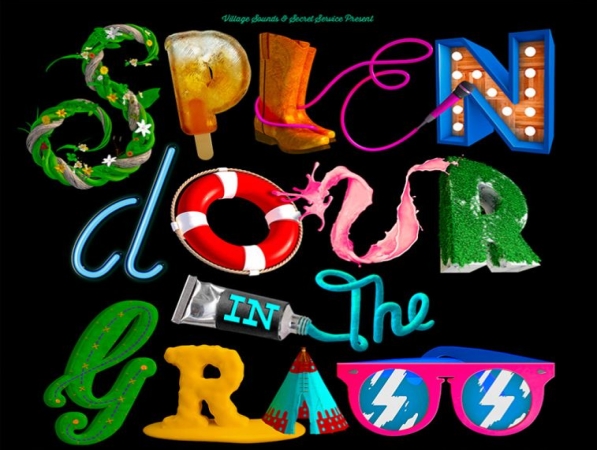 From July 25 - 27
Splendour In The Grass
returns with three massive days of sensational sounds from around the globe and all the venues and destination spaces you love, plus a few new places to explore!
It's time to put together your posse, route your road trip, pimp out your camping rig and make your way to Byron!
Ten months on from its maiden event, North Byron Parklands is looking pretty as a Polaroid picture and Splendour's 2014 footprint will see the main stage move to the site's majestic natural Amphitheatre.
"Finally we can present Splendour in our very own Amphitheatre and we can't wait to watch our 2014 lineup with you. Meet you left of the front of house mixing desk, next to the guy with the beard."
Said co-producers Jessica Ducrou and Paul Piticco.
From Friday to Sunday Splendour's Amphitheatre, Mix Up and GW McLennan stages are all set to bring you 80+ of the hottest, most interesting and respected acts touring the globe right now.
And when you're not watching the bands...
Splendour's much loved
GLOBAL VILLAGE
is back to feed the body and mind with three full days of performances, workshops, market stalls, yoga, dance and fusion food. Prepare to be inspired!
Splendour and the
TIPI FOREST
go together like the head and the heart. Minutes become hours, hours become.... it's so easy to get lost in the moment.
The incredibly popular
SPLENDOUR FORUM
is back with a stellar list of guests to discuss both the heavy and lighter topics, and ponder the tricky philosophical questions, all in the most entertaining way! Then, by night this space will miraculously transform into the brand new...
...
SPLENDOUR LATE NIGHT COMEDY CLUB
, where you'll find the some of the hottest comics in the country and a tent full of punters ROFLMAOing.
What's cooler than being cool?
SPLENDOUR IN THE CRAFT
for shizzle! One of Splendour 2013's most popular new additions is back with more workshops, more glitter, more hot glue guns... Stand still for too long in this space and you may be bedazzled.
In 2013 Splendour also introduced
MISS SAIGON KARAOKE
. Hundreds of people jammed into the space screaming out the lyrics to a never-ending stream of classic sing along tracks. Q. How many times can you sing Bohemian Rhapsody in one weekend? A. Many, many times!
Do you want loads of clothes and f**kloads of diamonds? You'll need to head to the
VERY SMALL MALL
, where you'll find a collection of awesome fashion brands offering everything you need to look your festival best! And you can get so fresh, so clean and iron out the creases at the
SPLENDOUR DAY SPA
!
SPLENDOUR ARTS
will once again delight and confound. Remember 2013's Barnraiser? The monumental living installation had many punters thinking that an Amish community had moved to Splendour. The barn was raised and will make a comeback in 2014, albeit repurposed! Stay tuned for more details soon and expect more amazing major to minuscule art installations across the site in 2014.
Plus there's
LITTLE SPLENDOUR
(kidz club), SING FOR YOUR SUPPER (busker's stage), eclectic MARKETS, a vast array of CULINARY DELIGHTS and tasty morsels and the COCKTAIL BAR with a different club each and every night. More details to come soon!
Splendour's new footprint at North Byron Parklands has allowed more space for campers directly adjacent to the event site, with a load of extra essential amenities, a General Store stocked with basic supplies and more food stalls open for business in the campgrounds from the Wednesday and right throughout the weekend.
While you can't park your Kingswood next to your tent, the camper's carpark is adjacent to the campgrounds and we'll have carts on hand to help ferry your gear to your digs. We also have an RV park, to cater specifically for vans, camper vans, camper trailers and caravans.
Onsite camping is available for up to 5 nights - with early entry into the campgrounds available from Wednesday 23 July - so bunk in for an easy and affordable way to experience Splendour. Remember you will need to purchase a vehicle pass for the day you want to arrive! You can find more information about camping and vehicle passes at
splendourinthegrass.com.
Splendour has long been at the forefront in developing new and effective ways to lighten event specific carbon footprints. Our army of committed enviro-savvy punters has offset thousands of tonnes of carbon via carbon-offset tickets and on site recycling programs. In 2013 our collective efforts were rewarded with A Greener Festival 'Outstanding Award'. Stay tuned for info about how you can help to keep SPLENDOUR green!
Are you ready? Let's do this!

SPLENDOUR IN THE GRASS is proud to present the artists that will grace the Amphitheatre, Mix Up and GW McLennan stages this July!

OUTKAST (ONLY AUS SHOW) ★ TWO DOOR CINEMA CLUB (ONLY AUS SHOW) ★ LILY ALLEN ★ INTERPOL (ONLY AUS SHOW) ★ FOSTER THE PEOPLE ★ ANGUS & JULIA STONE ★ CITY AND COLOUR ★ LONDON GRAMMAR ★ VANCE JOY ★ DARKSIDE (ONLY AUS SHOW) ★ RÜFÜS ★ BEN HOWARD ★ KELIS ★ METRONOMY ★ HOODOO GURUS ★ CHVRCHES (ONLY AUS SHOW) ★ GROUPLOVE ★ THE JEZABELS ★ TUNE-YARDS ★ 360 ★ WILD BEASTS ★ DANNY BROWN (ONLY AUS SHOW) ★ ILLY ★ FIRST AID KIT ★ VIOLENT SOHO ★ ÁSGEIR ★ SPIDERBAIT ★ THE 1975 ★ BALL PARK MUSIC ★ ART VS SCIENCE ★ BURAKA SOM SISTEMA (ONLY AUS SHOW) ★ THE PREATURES ★ PARQUET COURTS (ONLY AUS SHOW) ★ STICKY FINGERS ★ PEKING DUK ★ SKY FERREIRA ★ FUTURE ISLANDS ★ COURTNEY BARNETT ★ PHANTOGRAM ★ DZ DEATHRAYS ★ SKATERS ★ GOSSLING ★ JUNGLE ★ THE STRYPES ★ HOT DUB TIME MACHINE ★ THE KITE STRING TANGLE ★ RY-X ★ MIKHAEL PASKALEV ★ WAVE RACER ★ THE ACID ★ SASKWATCH ★ KINGSWOOD ★ CIRCA WAVES ★ BROODS ★ DUSTIN TEBBUTT ★ THE HEAD AND THE HEART ★ DMA'S ★ DARREN MIDDLETON ★ LITTLE MAY ★ DARLIA ★ D.D DUMBO ★ TKAY MAIDZA ★ THE CREASES ★ THE WILD FEATHERS ★ CHROME SPARKS ★ FRACTURES ★ MAS YSA ★ NICK MULVEY ★ TRIPLE J UNEARTHED WINNERS

PLUS DJs & PRODUCERS: NINA LAS VEGAS★ YACHT CLUB DJs★ MOTEZ★ TOUCH SENSITIVE★ INDIAN SUMMER★ WORDLIFE★ L D R U & YAHTZEL DJs★ COSMOS MIDNIGHT★ SABLE★ KILTER★ BASENJI★ KLP★ FISHING DJs★ PACES★ CHARLES MURDOCH
CHECK OUT THE OFFICIAL SPLENDOUR 2014 LINEUP PLAYLIST ON SPOTIFY
HERE.
TICKETS ON SALE
9am sharp AEST on Friday 2 May
SPLENDOUR IN THE GRASS 2014 TICKET PRICES
3 Day Event Tickets - $355* + booking fees
Gains entry to the event site on Thursday as well as Friday, Saturday and Sunday.
Single Day Tickets - $149* + booking fees
Onsite Camping Tickets - $99 + booking fees
* you have the option to offset your carbon emissions for $3 per ticket
CAR PASSES
A lot of work was directed at traffic management after the first event at North Byron Parklands last year. These efforts were put into action at Falls Festival in January and the result was smooth entry and exit and no traffic congestion.
To further manage traffic and create a greener event, we will again be implementing a car pass system that will encourage carpooling, please see our website for more detailed information.
TRANSPORT
Shuttle services will run between surrounding locations including Byron Bay, Brunswick Heads and North Byron Parklands.
Keep your eyes our website and our social media pages for more details.