NEWS
Coachella
Aussies Invade This Year's Line Up!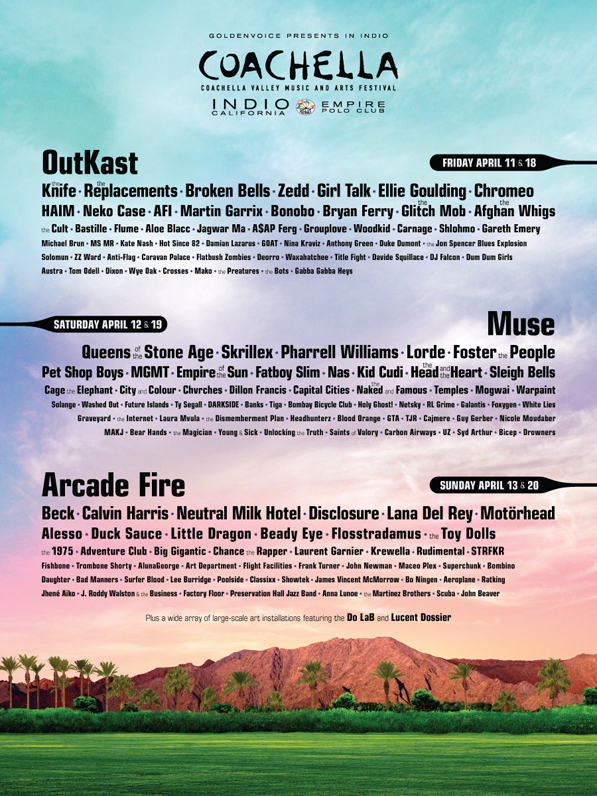 The Coachella 2014 lineup has been announced, and in characteristic fashion, the bill for the annual music festival is massive.

Held across three days in the Californian desert, and duplicated across two weeks, the 2014 lineup for one of America's - and the world's biggest - music events confirms some long held rumours.

The Coachella 2014 lineup's three main headliners includes the the official reunion of hip hop duo Outkast, recent Australian vistors Muse, and forthcoming Big Day Out co-headliners Arcade Fire.

But perhaps of more interest for audiences Down Under is the appearance of a batch of Aussie bands among the huge list of names playing across the two weekends of April 12th to 14th and April 19th to 21st, set to continue the 'Aussie Invasion' of the last 12 months into 2014.

Aussies on this year's bill include Flume, Jagwar Ma and The Preatures on the first night, Empire Of The Sun on the second night as well as Flight Facilities and Anna Lunoe on the third night.

Those that have missed out on tickets to the massive event can lessen the sting by taking solace in the fact that the entire event will likely again be live streamed on YouTube (as per last year).