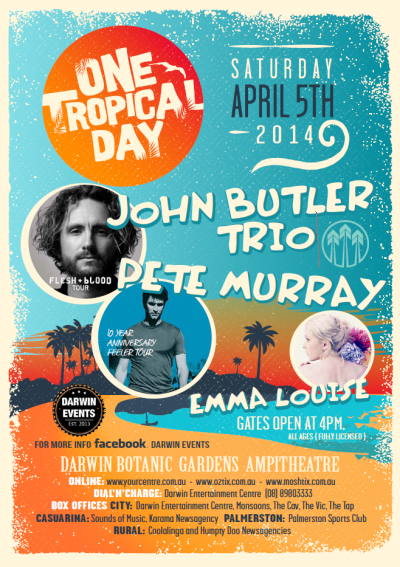 Darwin Events present
One Tropical Day
Venue and Lineup Announced!
Saturday 5th April 2014 will see the Darwin Amphitheatre host One Tropical Day. Designed as the platform to bring National touring acts to the Northern Hemisphere, OTD will certainly deliver with its April 2014 lineup.

Two of Australia's most popular acts, John Butler Trio and Pete Murray, have added Darwin to their National Tours. John Butler Trio as part of their 'Flesh and Blood' tour and Pete Murray as part of his 'Feeler 10th Anniversary Tour'

Added to the mix is breakthrough star Emma Louise who has quickly risen through the ranks of emerging Australian talent with her impressive debut album "Vs Heart Vs Head".

The John Butler Trio recently completed a quick stint of thrilling performances in capital cities selling out iconic venues around the country as they introduced new tunes and their new drummer, Grant Gerathy. With the trio's sixth studio album 'Flesh & Blood' locked and loaded for a February 7th global release the band are pleased to announce a national tour, their first extensive Australian tour in 4 years. Fans can expect a set list encompassing tracks from their new album 'Flesh & Blood' as well as crowd favourites from the breadth of the trio's catalogue.

Ten years ago, Pete Murray released his definitive album 'Feeler' in Australia. To commemorate the anniversary, Pete will be touring Australia in 2014 performing 'Feeler' in its entirety along with all the favourites, with members of his original band The Stonemasons and a live string section. Along with his band of muso brothers, Pete will be reliving the magic of this classic album and that special time for many Australians. Fans from around the country will be able to reminisce on the album that became synonymous with the laid back lifestyle of Aussie summers.

Brisbane singer-songwriter Emma Louise may be new on the scene but she is no stranger to the big stage. She has recently played her own run of sell out shows as well as playing alongside Boy and Bear, Josh Pyke and Missy Higgins to name a few. Her impressive breakout hit 'Jungle' alerted many a music fan and critic alike to her stunningly beautiful voice. Her debut album 'Vs Head Vs Heart' was released in March debuting at # 12 on the ARIA charts, winning QMA's Album Of The Year and she was nominated for best female artist at the recent ARIA Awards. She spent 2013 busy touring the world and 'Jungle' was recently certified platinum in Italy.

One Tropical Day will be held at the Darwin Amphitheatre on Saturday 5th April 2014. The event will be fully licensed with a large variety of food and beverage outlets available.
Tickets On Sale NOW!