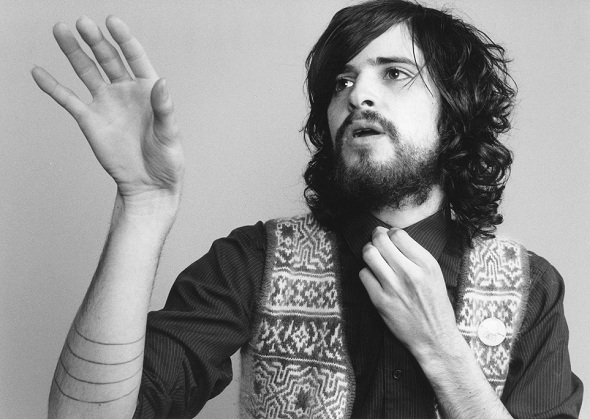 Frontier Touring presents
Devendra Banhart
Headline Show Announced!
Frontier Touring can confirm that Devendra Banhart will be returning to Australia to play two headline shows in Melbourne and Sydney whilst in Australia for Bluesfest 2014.

The singer-songwriter and visual artist is no stranger to Australia, having played at Big Day Out in 2010 and Splendour In The Grass in 2011, along with a series of sideshows.

Over the years, Banhart's style of music has been extensively debated as critics struggled to define his avant-garde style as an artist and individual. However, whether Banhart's music is classified as avant-folk or part of the 'new weird America' movement, there is no doubt that Banhart's vision and eclectic style has captured music lovers all over the world since his 2002 debut LP 'Oh Me Oh My'.

Born in Texas and raised in Venezuela, Banhart's songs know no boundaries as they explore and question various aspects of humanity in dark and disturbing ways, which often manages to carry romantic tendencies at the same time. Banhart's song writing is almost a glimpse into his thoughts as they are short, minimalistic in production, combined with vague and non-literal lyrics that represent his stream-of-consciousness in a surreal way to keep you completely engaged and fascinated.

Earlier this year, Banhart released his eighth studio album 'Mala' (out now through Warner Music) - three and a half years after his last release.

From the man who brought us 'Lover' and 'I Feel Just Like a Child', comes Banhart's newest experiment, which he produced with Noah Georgeson in Los Angeles, playing the instruments themselves, using borrowed equipment and a second-hand recorder.

Banhart also released a video for 'Für Hildegard von Bingen' off 'Mala'. The song pays tribute to the German-born 12th century saint of the same name, a composer and inventor of new languages, who used her spiritual powers and messages to broadcast ideas that were beyond her time and congregation. Banhart took this, combined the suppressive societal issues of the past and present and created a song and video clip which is nothing short of thought provoking.

"'Mala' is yet another stylistic curveball, favoring low-key arrangements with subtle flourishes of Tropicalia, and disco even. It's also his best album in nearly a decade" - Under The Radar 8/10

"'Mala' is Banhart's best record in nearly a decade - largely because it's his loosest and funniest" - Pitchfork 7.6

"One never knows what to expect when Banhart gets in front of a crowd. He's a natural showman with a characteristic rockstar magnetism" - Consequence of Sound

"Devendra Banhart has been around for a while now, but he's still one of the most enigmatic and interesting musicians operating in the industry today with a beautifully bizarre charm" - No Ripcord 7/10

Just like the nature of his songs, Banhart is sure to bring a show that is unpredictable and hypnotic, so make sure you don't miss out!
Tickets On Sale NOvember 2nd!