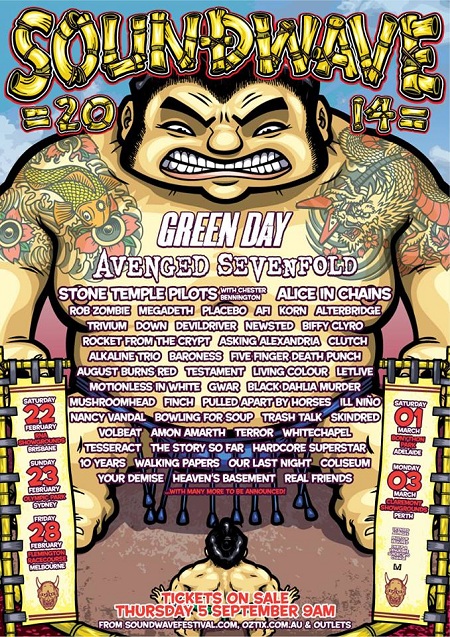 Soundwave Festival 2014
2nd Lineup Announcement!
A DAY TO REMEMBER
MASTODON
HIM
PENNYWISE
JIMMY EAT WORLD
GLASSJAW
PANIC! AT THE DISCO
EAGLES OF DEATH METAL
THE DILLINGER ESCAPE PLAN
LESS THAN JAKE
MAYDAY PARADE
SEVENDUST
CROSSES
SUICIDE SILENCE
THE PORKERS
GOJIRA
BLACK VEIL BRIDES
ZEBRAHEAD
SATYRICON
DREAM ON DREAMER
MUTEMATH
DESAPARECIOS
STIFF LITTLE FINGERS
THY ART IS MURDER
GRAVEYARD
DIR EN GREY
DEEZ NUTS
IN HEARTS WAKE
BREATHE CAROLINA
DEFILER
I CALL FIVES
HACKTIVIST
DEVIL YOU KNOW
SOIL
THE BOSS HOSS
UNCLE ACID & THE DEADBEATS
NOSTALGHIA
UPON A BURNING BODY

Tickets On Sale NOW!