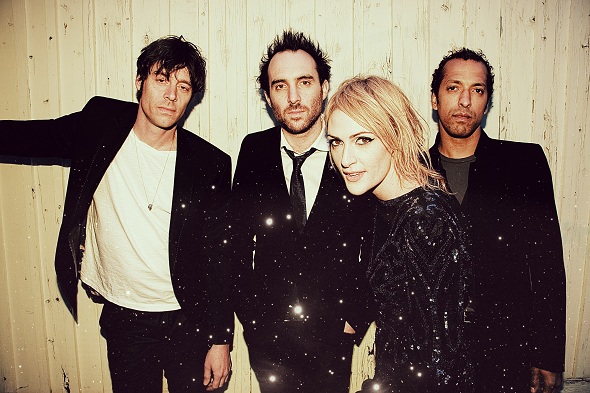 Live Nation presents
Metric
In the early 2000's when rock was back and every band in the world seemed to be looking for a wormhole to a 1970's garage, Metric front woman Emily Haines was hauling around an analogue synthesiser. The musical vision which was met with some hesitation, would go on to spawn a unique and inspired sound; heavily mimicked and much-adored.

In 2009 - more than eleven years after their inception - Metric released their fourth studio album Fantasies. The critically acclaimed release would sell over a million singles and 500,000 albums worldwide. The band subsequently sold out arenas, headlined music festivals across the world, and had a hand in scoring films for everyone from Edgar Wright to David Cronenberg, as well as writing the theme song for the Twilight Saga: Eclipse soundtrack with legendary composer, Howard Shore.

For a band that had always been told they were doing it wrong, the Toronto-based quartet have grown into a fresh model for making it work.

In 2012, the weight of Metric's brilliance was truly felt on Australian audiences. Coinciding with their first performance at Splendour in the Grass, the band released their fifth studio album Synthetica. Featuring tracks Youth Without Youth, Breathing Underwater and Lost Kittens, the album peaked at #21 on the ARIA Album chart and is still on heavy rotation on radio stations throughout the country.

Metric's national support, Glass Towers have smashed their way through 2013, collecting accolades, airplay, magazine covers and hangovers along the way. Their debut long-player Halcyon Days was a triple j Feature Album and debuted at #1 on the independent charts; while Rolling Stone magazine tipped them as one of the hottest new groups in Australia. Glass Towers will join the Metric tour fresh from their first European and Japanese dates where they are causing a similar stir with the international music community. Their live show is a heady mix of melodic rock, youthful lyrics and syncopated rhythm aimed at getting you to move and feel all at once.

This December, envelop yourself in Metric's exhilarating and endlessly layered rock-infused indie sounds. Just don't forget to come up for air.
Tickets On Sale NOW!