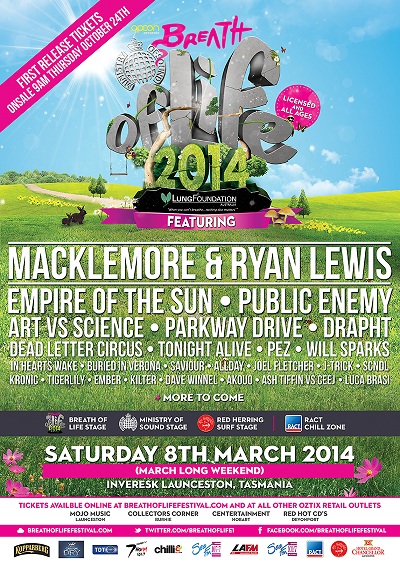 OPCON presents
Breath Of Life
Early Bird Tickets Sold Out!
With 25% of all Breath Of Life 2014 tickets gone, the 2014 edition is set to be our biggest yet! What better way to reward all our loyal fans than to drop a couple more acts into the already huge BOL14 line up!

For your viewing and listening pleasure we present......

KNIFE PARTY
The mad scientists behind Knife Party, Gareth McGrillen and Rob Swire show the world how we do it down under! Only forming the project in 2011, the viral sensation 'Internet Friends' stormed triple j's Hottest 100 at #55 in 2012, with the iconic line "you blocked me on Facebook... and now you're going to die!" They followed it up with massive tracks like 'Rage Valley', 'Power Glove' and 'EDM Death Machine', with their latest EP 'Haunted House' absolutely smashing it, hitting #1 on the Billboard Top Electronic Charts. Renowned for sets jam-packed with adrenaline, masterful dubstep tricks and epic bass drops that have sent crowds bonkers around the world, don't miss them tearing it up at home!

PORTER ROBINSON
He's performed along side artists like Tiesto, Skrillex and Deadmau5 and at some of the biggest festivals in the world. His electro-house party starter 'Say My Name' blew Beatport away, taking out #1 on its charts. With success that some DJs only get to dream about, the American rising star is still only 21! Playing a bunch of sold out shows throughout Australia this October, those lucky enough to get their hands on tickets are in for a treat! Dry those tears, your second chance is here - see you at Breath Of Life Festival 2014!

Breath Of Life 2014 Featuring:

Macklemore & Ryan Lewis
Knife Party
Empire Of The Sun
Public Enemy
Porter Robinson
Art vs Science
Parkway Drive
Drapht
Dead Letter Circus
Tonight Alive
PEZ
Will Sparks
In Hearts Wake
Buried In Verona
Saviour
Allday
Joel Fletcher
J-Trick
Tigerlily
SCNDL Kronic
Ember
Kilter
Dave Winnel
Akouo
Ash Tiffin vs Ceej &
Luca Brasi

LAUNCESTON:
Mojo Music - 81 Brisbane Street, Launceston TAS (03) 63345677

BURNIE:
Collectors Corner - 37 Wilson Street, Burnie TAS (03) 64316616

HOBART:
Centertainment - 53 Elizabeth Street Mall, Hobart (03)62345998

DEVONPORT:
Red Hot CD's - 10-12 Edward Street, Devonport TAS (03) 64249816

Tickets On Sale NOW!