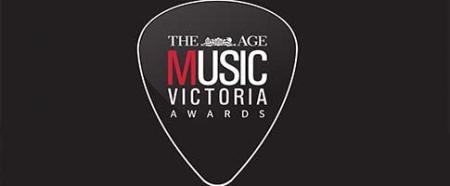 The Age Music Victoria Awards
The nominees for the publicly-voted The Age Music Victoria Awards 2013 have now been announced! The Drones lead the nominations, scoring three nominations for best album, best band and best live act, while a clutch of acts including Paul Kelly, Adalita, King Gizzard and the Lizard Wizard, Dick Diver and Clairy Browne and the Bangin' Rackettes each scored two nominations.

Two new regional awards for Best Regional Venue and Best Regional Act were introduced and Geelong, Castlemaine and Ballarat venues and acts were prominently represented with Gold Fields, Hunting Grounds, Yacht Club DJs, The Karova Lounge, The Barwon Club, Theatre Royal and The Bridge Hotel amongst the bands and venues receiving nominations. Nominees were chosen by a panel of over 20 music industry broadcasters, journalists, music associations, festival curators and record store owners.

Voting for these public awards is open until Friday 15th November, with the awards presented on 20th November. Special prizes will be handed out this year with the APRA Best Song winner to receive a $5000 cash prize, and the winner of the Best Emerging Artist award will be flown to Brisbane's BigSound Conference with full accommodation, where they will be playing a high-profile showcase slot.

Nominee for Best Album, Big Scary will open the awards show with a 30 minute set at Billboard the Venue on Wednesday 20th November. The best Australian soul singers including Daniel Merriweather, Dan Sultan, Kylie Auldist, Archie Roach, Nkechi Anele will join the EG Allstars in an Australian Soul Revue.

The Age Music Victoria Awards are the largest publicly voted awards in Australia with an average of 80,000 votes and the awards continue their long association with the musicians' charity Support Act Limited, donating $5 from each ticket to the organisation.

The music-loving public can have their say and vote for the best Victorian music for 2013 at theage.com.au/entertainment/agemusicvictoriaawards

Music Victoria CEO, Patrick Donovan, said "Music Victoria is thrilled to be in partnership with The Age to transform the Age EG Awards into The Age Music Victoria Awards in 2013. The only difference this year is that we are just celebrating Victorian music now - of all genres. It is still the people's awards - fans can vote for their favourite music of the year, and buy a ticket to the Billboard show to rub shoulders with their heroes, see them perform and cheer for them as they take home a trophy."

3RRR Station Manager, Dave Houchin, said "3RRR 102.7FM is very proud to be presenting The Age Music Victoria Awards in 2013. Music Victoria's involvement, the introduction of the genre awards, the Soul Revue format hosted by Triple R's own Chris Gill, and the induction of Renée Geyer into the Hall of Fame are exciting developments for 2013 and will create a fitting occasion to proudly celebrate Victoria's diverse music culture."


THE 2013 AGE MUSIC VICTORIA AWARDS Presented by SAE and 3RRR 102.7FM

Starring: Renée Geyer (greatest hits set)
The EG Allstars Soul Revue with
Dan Sultan
Archie Roach
Daniel Merriweather
Kylie Auldist
Lance Ferguson
Nkechi Anele (Saskwatch)
Henry Wagons
Remi Kolawole
Talei Wolfgramm
Linda Bull
Ella Thompson
Big Scary (just announced!)
MC Chris Gill and DJs Vince Peach, Pierre Baroni, Johnny Topper and Chris Johnston

facebook.com/theagemusicvictoriaawards

The Age Music Victoria Awards 2013 nominees are:

Best Album - presented by The Age EG
All Day Venus - Adalita
Calendar Days - Dick Diver
I See Seaweed - The Drones
Not Art - Big Scary
Spring and Fall - Paul Kelly

Best Band - presented by City of Melbourne
Clairy Browne & The Bangin' Rackettes
Dick Diver
King Gizzard & The Lizard Wizard
Saskwatch
The Drones

Best Song - presented by APRA
Nono/Yoyo - Standish/Carlyon
Head On/Pill - King Gizzard & The Lizard Wizard
History Eraser - Courtney Barnett
I'm In Love - Cash Savage And The Last Drinks
Riptide - Vance Joy

Best Male Artist - presented by Select AV
Archie Roach
David Bridie
Gotye
Mikelangelo
Paul Kelly

Best Female Artist - presented by TheMusic
Adalita
Courtney Barnett
Evelyn Morris (Pikelet)
Jen Cloher
Kylie Auldist

Best Emerging Artist - presented by Travel Beyond / Bigsound
Andras Fox
Brighter Later
Damn Terran
Fraser A. Gorman
Hiatus Kaiyote

Best Live Band - presented by RockWiz
Bombay Royale
Clairy Browne & the Bangin' Rackettes
Harmony
Money For Rope
The Drones

Best Venue - presented by Mountain Goat
The Caravan Club
The Corner Hotel
The Forum
The Old Bar
The Toff In Town

Best Festival - presented by Crumpler
All Tomorrow's Parties / I'll Be Your Mirror
Boogie
Golden Plains
Meredith Music Festival
Sugar Mountain

Best Regional Act -
Gold Fields
Hunting Grounds
Quarry Mountain Dead Rats
Stonefield
Yacht Club DJs

Best Regional Venue -
Karova Lounge, Ballarat
Meeniyan Town Hall, South Gippsland
Theatre Royal, Castlemaine
The Barwon Club, Geelong
The Bridge, Castlemaine
Tickets On Sale NOW!