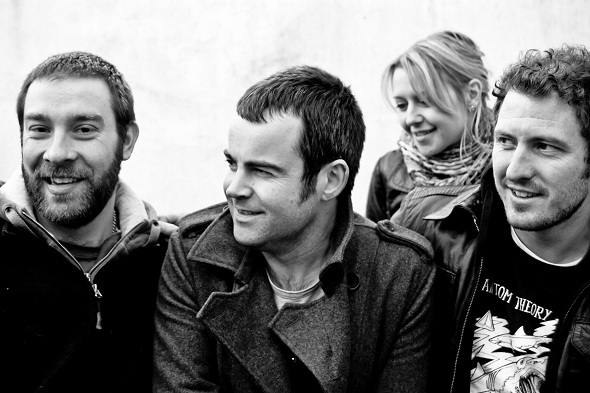 Handsome Tours present
Future Of The Left
2014 Australian Tour
The Future Of The Left Australian Tour 2014 has been announced, with the caustic, irreverent, music journalist-baiting rock band set to visit next summer.

Returning for shows in Melbourne, Sydney, and Brisbane in January 2014, Future Of The Left are set to do what they do best: rock out!

Since Future Of The Left formed back in 2005 following the dissolution of much-loved Cardiff outfit Mclusky - both frontman Andy "Falco" Falkous and drummer Jack Egglestone were alumni from that fine band, the current line-up rounded out by guitarist Jimmy Watkins and Aussie bassist Julia Ruzicka - they've been constant visitors to our shores, always preferring to come down here in the height of the summer heatwave, presumably to get the hell out of the cruel Welsh winter.

But it's Aussie fans who are the winners of this strange symbiotic relationship, getting to see one of the best live rock bands doing the rounds today strut their stuff on a regular basis. Future Of The Left have to date released three powerful albums and a string of resolutely strong EPs, but it's in the live realm where they need to be experienced to really understand the dynamic which makes them so revered - the way that they effortlessly mash raw power with melody and groove is almost unparalleled in the modern scene, a visceral assault that pummels the senses at the same time as it draws you to the dancefloor.

In conjunction with this potent musical mayhem, Future Of The Left also possess a cerebral element to their armoury which leaves competitors for dead, Falco's acerbic worldview manifesting in some of the most thought-provoking and just damn funny lyrics one will encounter this side of the comedy circuit.

One need only look at some of the song titles from their forthcoming fourth album How To Stop Your Brain In An Accident (out 25th October though Prescriptions/Remote Control) to get the gist of this rich comedic vein; you just know that songs with names such as 'How To Spot A Record Company', 'I Don't Know What You Ketamine', 'Things To Say To Friendly Policemen' and 'Singing Of The Bonesaws' are going to hit the spot in more ways than one.

Future Of The Left ran a pledge campaign to raise funds to record their new album and hit its goal in five hours, so the fans' support is still as strong as ever.

Be amongst the first to hear the new tracks from How To Stop Your Brain In An Accident in person when Future Of The Left return in the first week of 2014 to smash us into the new year with a string of shows along the eastern seaboard. People have been mourning the future of our own left in recent times, some kickass rock'n'roll and a few laughs can hardly be a bad thing, right?
Tickets On Sale NOW!