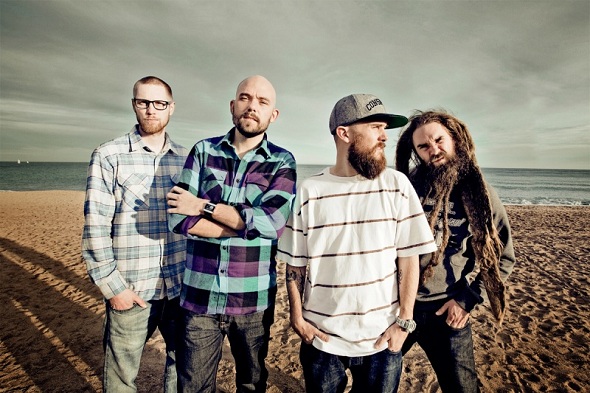 On The Case presents
Looptroop Rockers
Aus Shows Announced!
On the Case, a newly-formed record and touring company, has announced the lineup for their first international tour schedule. Swedish hip-hop royalty Looptroop Rockers will arrive in December for their first ever Australian tour, immediately after their successful American tour, which included shows at the United States largest hip-hop festival, Rock the Bells. The Looptroop Rockers will be accompanied by the popular forefather of indie hip-hop, Sage Francis (USA), as well as local hip-hop outfit, Tenfold (AUS).

Looptroop Rockers have been living their dream for over a decade. The group was formed two decades ago, but they've been supporting themselves solely through music since around '98 when they formed their label David vs Goliath. What's the secret to their longevity and constancy? How have they been able to transcend the Swedish and the international hiphop scenes, thus avoiding the ups and downs of them?

How have they created their own niche from where they've reached people through the constant media bombardment? First of all it's taken a strong work ethic made possible through the conviction that your business is your pleasure, and that the two perhaps shouldn't be separated. And that as a tight knit group, believing in and loving each other; no stumbling block can stop you - only make you stronger. With that strength comes the independence that makes you realize your worth and not sell yourself short in the cut throat music industry.

And with maturity comes the humbleness that makes you realize your limitations - and search for good partners and strong bonds in that same industry. It's been important to find and sometimes create an infrastructure to reach out with the music, which in Looptroop's case has meant being on the road for the majority of their career.

Through the social sacrifices that have been the result of that lifestyle they have still never lost the ability to dream. Embee embodies the world famous Nordic melancholy like no other producer, and his unique music has become one of the trademarks that have set them aside from other acts. His hard hitting beats, laced with deeply reflective melodies create an enchanting universe for the listener to explore. Lyrically, they've rarely wanted to waste people's precious time with nonsense rhymes - and the messages, of politics, independence, love, life and death; have appealed to people all over the world; from South Africa to Chile, Australia to Poland and from the US back to Sweden. With an incredible ability to recreate themselves, fans sometimes fear what will come next - but the Troop has always needed that constant evolution not to stagnate or get tired of themselves.

So what's new this time? Cosmic is back in the group again! Joining Embee, Promoe and Supreme; he spits on 'Late Nights Early Mornings':"I felt that I needed a pause, a good thing though - now I breathe with full force!" And this, their fifth album, is definitely a reunion of epic proportions. It's already been coined their best album so far, and every single track on the album is indeed a certified classic. Recording in Embee's new studio in the Svenska Grammofonstudion complex in Gothenburg, the group has been experimenting with new ways of creating songs. Already known to the public is the track 'On Repeat', recorded the day after 5looptrooprockers_newsitem_131007 of the Swedish people voted a racist party in to parliament. Embee started sampling the sound of doors shutting, and made the whole beat out of different door sounds - symbolizing the politics of shutting people out. In the meantime the three rappers were recording vocal ideas that formed the foundation for the hook and the verses. That's just one example of how they've really been making this album as a collective, and you can tell that the guideline has been to push the boundaries in the studio even further than we're used to with Looptroop. The guests this time are Chords, Gnucci Bana
Tickets On Sale NOW!