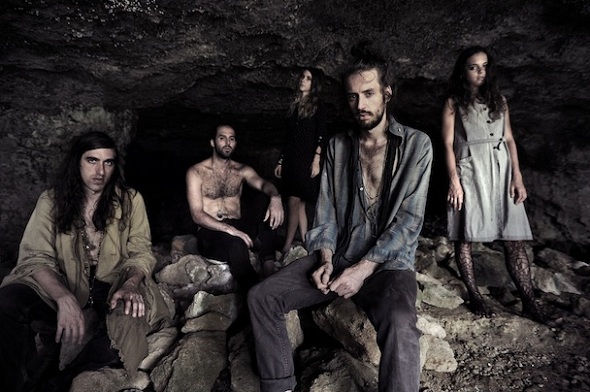 Chugg Entertainment & Music Feeds present
Crystal Fighters
Aus Shows Announced!
Crystal Fighters recently announced that they will be heading to our fair shores for Falls Festival and Southbound this summer, and now, Chugg Entertainment are pleased to confirm that the band will also be playing their first ever headline shows in Australia next January.

Travelling with an eclectic mix of members from Great Britain and Basque Country, Crystal Fighters will ring in the New Year performing at the Falls Festivals, but then play their own side shows at The Corner Hotel in Melbourne on Monday 6th January and at the Hi Fi in Sydney on Thursday 9th January.

This tours follows on from their first visit to Australia in 2011 performing as part of the touring Parklife festival and playing songs from their 2010 debut album, Star Of Love, an album that was influenced just as much by traditional Basque music from the 18th century as it was modern-day clubland, and contained residual traces of every genre, scene, style or party that had existed in-between.

Now they return with a fresh repertoire of music including songs from their latest release, Cave Rave featuring Triple J spun tracks "You and I" and "Wave". The album came together in just a few months when the band retreated to the Basque hills that they consider to be their spiritual home. Their music has always born traces of the local sound - traditional instruments like txalapartas and txistus vying in the mix with razor's edge guitars and percolating techno synths. Using the Basque culture as a stepping stone backward to the spiritual and primal, this album draws deeper into universal, history-permeating themes of love, death, insanity and hope.

It's already been a huge year of touring for Crystal Fighters, with appearances at some of the biggest festivals in the world, from Bestival to Reading and Pukkelpop and countless sold out headline shows in coveted venues such as Webster Hall in New York and one coming up in Brixton Academy in London, but nothing as special as their pilgrimage to Basque country, to host their own Cave Rave in Zugarramurdi, a small town just outside of San Sebastian in Northern Spain. This incredible event brought fans in from all over the world, watch this amazing clip to find out what all the fuss was about.

We might not be hosting the band in such unique countryside venues in Australia, but there is no doubt that these shows are not to be missed. The weather is heating up and summer is coming, what better way to celebrate than with one of the most fun and energetic live shows you'll see this festival season.
Tickets On Sale October 4th!