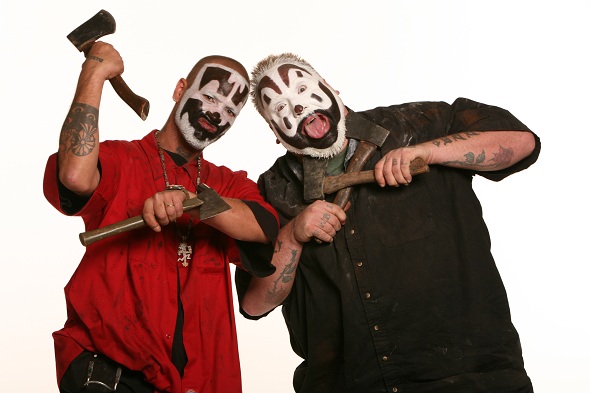 Killrockstar Entertainment presents
Insane Clown Posse
The Mighty Death Pop Tour Announced!
Send in the clowns! KillRockStar BigDog Entertainment call out for Australian Juggalos to gather en-mass for the one and only Insane Clown Posse on their first Australian tour in a decade!!

The lords of the Dark Carnival bring their psychotic live show, and a butt-load of Faygo, downunder for 'The Mighty Death Pop Tour' 2013.

This December 'Insane Clown Posse' will bring the Dark Carnival to life on soda pop drenched stages across the country. ICP have sold over 11 million albums worldwide and in the process exposed millions to the way of the Dark Carnival. Without commercial radio or the support of video play Violent J and and Shaggy 2 Dope have connected deeply with a passionate global fan base that hangs on their every word. Juggalos (ICP's loyal fan base) are a worldwide movement, gathering each year for the infamous Gathering of The Juggalos in the United States and the subjects of the 2012 lawsuit filed against the FBI by ICP after the organisation had wrongfully branded Juggalos a violent gang.

'The Mighty Death Pop!' is the 12th studio album to be released by the wicked clowns. Deputing at #4 on the US Billboard charts it is the groups second album since the conclusion of the group's original "Joker's Cards" series. The titular character The Mighty Death Pop!, is the second in a set of six new Joker's Cards. Australian Juggalos this is your rare opportunity to see the world's most hated band live in Australia. Peace and MMFWCL!
Tickets On Sale October 4th!