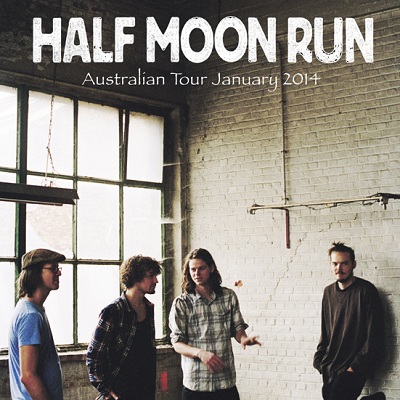 Indica Australia, Oztix and TheMusic presents
Half Moon Run
2014 Australian Tour Announced!
Canada's Half Moon Run are returning to Australia, twelve months after appearances at Woodford and Peats Ridge last Summer gained them an instant and solid following. Turning into a successful national tour as news of their stunning show ignited social media, the spreading reputation ultimately led to the play listing of their debut single "Full Circle" on triple j.

Fast forward nine months and the rest of the world has caught up, with the new single "Call Me In the Afternoon" setting the globe alight after a killer South by South West which saw the band signing to Glassnote Records and a string of worldwide tours with Mumford & Sons and Of Monsters and Men. Their album "Dark Eyes" got its international release in July via Glassnote and Universal and is available in Australia via indie label Indica.

Playlisted across BBC1, BBC6 and XFM in the UK and premiering on NME.com, "Call Me in the Afternoon" has also ignited the airwaves across the Atlantic, charting in the top 50 of US college bible CMJ and scoring its public premiere in the states via none other than RollingStone.com.

When Indica introduced Australia to Half Moon Run, it was clear we had something special. Now the world agrees and it's time for Australia to "Call Me In the Afternoon" with an extensive run of dates including regional dates to thank the communities that supported them the first time around.

"The delicate alt-rock ecosystem they've created is reminiscent of Alt-J's An Awesome Wave, wherein each player treads lightly, rhythms are complex and vocal harmonies are precision-cut." ★★★★ - The Guardian

"It's the quality of the songs that makes the album stand out. 'Dark Eyes' remains a quietly stunning record" - NME
Tickets On Sale NOW!