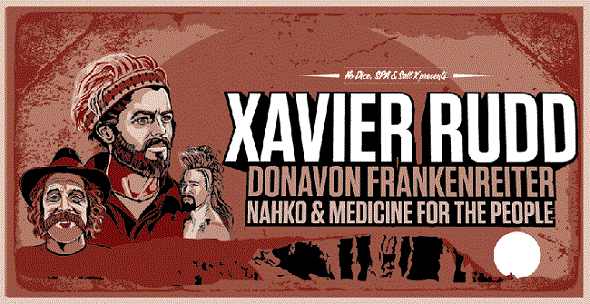 SPA and No Dice Management present
Xavier Rudd
Spring is upon us - although it may not feel like it in some parts of the country - and what better way to kick off winters shackles and embrace the new season than with an Australian tour!

Three voices. Three cultures. One love of music and the ocean. Xavier Rudd, Donavon Frankenreiter and Nahko and Medicine for the People hit the road for an Australian tour destined to be the feel-good event of the year.

With the first Forum Theatre in Melbourne SOLD OUT - we have managed to schedule a second show for Wednesday 2nd October. This will be the last of the shows added to the tour & tickets are moving fast - Don't miss out!!

Xavier Rudd
Majestic and deeply spiritual, the music of Xavier Rudd has shaped an entire generation of Australians. A beautiful conduit connecting people to one another and to the planet we live on, Xavier Rudd's music has impacted the world for over a decade - spanning back over seven studio albums, multiple ARIA nominations and more high-rotation singles than you'd care to count - with his most recent single, Follow The Sun, reaching Gold status and landing in last year's triple j Hottest 100. A key figure in bringing the message and music of our indigenous people to a broader audience, Xavier Rudd's spirituality is a powerful force for positive change, and he is widely regarded as an Australian icon.

Donavon Frankenreiter
A California-bred resident of Hawaii; Donavon Frankenreiter's soul is intrinsically linked to the natural world. A renowned surfer and singer-songwriter, Donavon's music found a home in Australia almost immediately, and the landscape and people of Australia found their way into Donavon's heart. Overflowing with songs of love and harmony, Donavon's fifth album Start Livin' is his most organic and soulful to date: much of it recorded live using natural percussion and household implements as makeshift instruments. Very near to his heart, Start Livin' finds Donavon singing about his boys, his wife, and the life they've built together in Hawaii... a love album in the truest sense.

Nahko And Medicine For The People
Another voice made powerful by its message of love is that of Nahko Bear. Touring Australia in February to a fanatical reception, Nahko's mix of Apache, Puerto Rican and Filipino cultures has already captured the hearts of Australian fans with its amazing blend of sounds, and powerful message of spiritual, personal and communal healing. Nahko will once again be performing with his band of troubadours, Medicine For The People, whose delicate instrumentation give flight to Nahko's deeply meaningful songs on their latest studio album, Dark As Night.


ALL TICKET DETAILS AT HTTP://TOUR.XAVIERRUDD.COM
Tickets On Sale NOW!