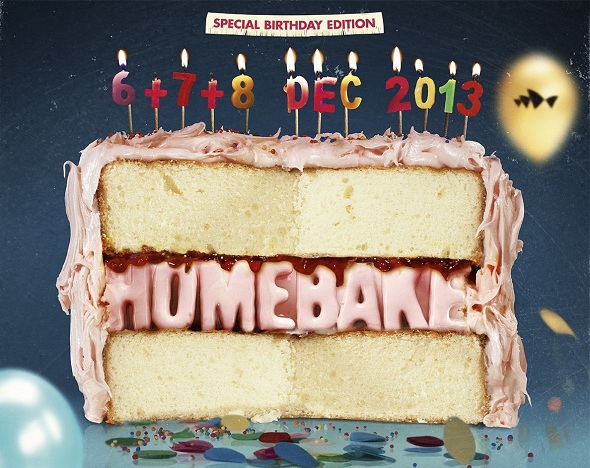 Channel V, Max & The Music present
Homebake 2013
Lineup Announced!
It's 2013 and Homebake has come of age! Eighteen years can virtually be regarded as a lifetime in any event lifecycle - and it's especially true when the focus is entirely based on local artistic talent alone.

Throughout the course of those 18 years, Homebake has witnessed many up and coming musicians and entertainers grace our humble stages and thereafter go on to conquer the world - and we are exceptionally proud to be part of such a thriving industry. And now, it's time to celebrate in a big way with one of the most exciting announcements in the history of Homebake, being a special one-off combined Anniversary Edition as we unite Homebake's 18th birthday with the 40th anniversary of the landmark Australian icon, the Sydney Opera House.

Considering the united milestone events, we here at Homebake HQ have been plotting and planning away to present a unique 3 day edition, themed in a style representing each of the Homebake main stages per day, and all taking place at the location with the greatest view the Southern Hemisphere has to offer - the Sydney Opera House Forecourt (and surrounding areas). With this one off move from the wide spread grounds of The Domain, we're scaling back the size to the stunning and intimate harbour side forecourt however scaling up for three days of music, comedy, activities, amazing bars, markets and great food. Keeping things cosy, we're giving our audience a more 'up close & personal' experience this year however don't fear as we're spreading the invite list for this huge double birthday celebration just this one time over three glorious summer afternoons and evenings this coming Friday 6 December, Saturday 7 December and Sunday 8 December.

Sydney Opera House Chief Executive, Louise Herron, said today "Michael Chugg was behind one of the first concerts on the Forecourt, the 2SM Concert of the Decade, featuring Stevie Wright, Skyhooks, Richard Clapton and Split Enz. Our 40th Anniversary is all about drawing on our heritage, as we launch into the future and the next generation of artists, audiences and visitors to the Opera House. So it is wonderful to be welcoming Michael Chugg and Homebake onto the Forecourt as part of our celebrations."

Chugg Entertainment Executive Chairman and Homebake Co-Promoter Michael Chugg added "The Sydney Opera House forecourt is a special place to me. I have wonderful memories of delivering shows from some of the best Australian acts on those very steps, from the 2SM Concert of the Decade to the Crowded House Farewell To The World tour. I'm always passionate in the press about supporting local music and I couldn't be more excited to be a part of this unprecedented event, three nights of incredible Australian music in the most intimate capacity that Homebake's ever offered and at one of the most spectacular locations in the world. Happy Birthday Homebake and Happy Birthday Sydney Opera House! It's going to be one hell of a celebration!"

And now, we present our Birthday Edition stars all appearing on the one main stage as follows:


The Opening Day - Friday, 6 December, 2013:


Paul Kelly
A legend befitting the icon status of the sum parts of Homebake 2013, PAUL KELLY has recorded nineteen studio albums as well as several film soundtracks and two live albums throughout an influential career spanning more than thirty years. Scoring a plethora of accolades, Paul was awarded the honour of being inducted into the ARIA Hall of Fame in 1997. PAUL KELLY's latest long player Spring And Fall, a song cycle that tells a love story from multiple points of view was released late last year. Renowned for his unique Australian story telling style, PAUL KELLY's songs are lodged deep in the Australian psyche spanning generations, as he continues to cross musical boundaries. The Triple J tribute album Before Too Long, released in 2010 and featuring
John Butler, Missy Higgins, Megan Washington, Paul Dempsey, Ozi Batla
and many is evidence of his influence on generations of musicians. His first work of prose
How To Make Gravy
was published in 2010 accompanied by a CD box set of live recordings and an audio book with readings from Paul and some of Australia's finest actors including Cate Blanchett, Russell Crowe, Hugh Jackman, Judy Davis and Ben Mendelsohn. In August 2012,
'Paul Kelly - Stories Of Me'
, a feature-length documentary premiered in Melbourne. His live shows are a mix of new tales and a collection of classics and no with no doubt, be prepared to be truly mesmerized as MR PAUL KELLY joins this unique celebration.
Geoffrey Gurrumul Yunupingu
An enigma with the Australian music industry, we are thrilled to have the one and only GURRUMUL join the opening celebrations. Born blind, GURRUMUL grew up as a member of the Gumatj clan on Elcho Island, off the coast of tropical North East Arnhemland. His fragile but powerfully emotive voice has affected the public in a way no other artist has done in Australia. This unique Aboriginal man sings songs about identity, spirit and connection with the land, its elements and the ancestral beings he is related to. His high tenor voice and aura-like persona creates emotion, compassion and a feeling of peacefulness and longing with audiences in Australia and around the world. GURRUMUL's self-titled debut album has sold half a million copies worldwide, his second solo album
Rralaka
released in April 2011 has hit platinum. GURRUMUL has performed for HRH Queen Elizabeth, Barack Obama and Crown Prince Frederick and Princess Mary of Denmark. We are thrilled and honoured GURRUMUL will be performing at Homebake.
Eskimo Joe
No strangers to the Homebake stage, Perth's finest ESKIMO JOE certainly aren't the kind of band to do things in halves. Their latest long player,
Wastelands'
, proves just that. Having come full circle, ESKIMO JOE recorded the entire album in their own studio, having got back to the ethos that set them on this 16 year odyssey in the first place. Frontman Kav comments,
"We came home this time wanting to do something a little different. But at the same time do something that we could all dance to."
Though undeniably ESKIMO JOE, it's clear the band have turned a corner and ventured into new territory. Having had an incredible career to date, scoring a stack of No. 1 charting hits, gold, platinum and ARIA Awards, we welcome the guys back for this one off birthday celebration. Fully electric and fully eclectic, put your dancing shoes on and witness ESKIMO JOE like you've never seen or heard them before!
Vance Joy
Currently setting the charts alight in a big way, the man of the moment VANCE JOY has an original voice which at first he kept to himself. Feeding on a diet of
The Pogues, Paul Kelly
, and whatever else was playing, he cut his teeth performing at open mic nights in Melbourne. It is folk music with pop influences. His songs capture the familiar pulse of everyday experiences in a unique and celebratory manner. This Melbourne based singer-songwriter began 2013 by traversing the East Coast with indie folk megastars
Of Monsters & Men
. Off the back of his platinum selling EP,
God Loves You When You're Dancing
, VANCE JOY has succeeded in becoming one of the most watched burgeoning acts not just in Australia but all over the world. Without further ado, we bring to you VANCE JOY.
Thelma Plum
Mesmerising and infinitely talented, singer-songwriter THELMA PLUM has cast a spell on all in her path since her first demo, Father Said, won Triple J's Unearthed competition in July 2012. The 18 year old from Brisbane recently released her debut EP,
Rosie
, led off by the sunny burst of self-assertion,
Around Here
, these six songs reward months of anticipation in the musically muted, lyrically forthright style that has made THELMA PLUM such a compelling new voice. The AU Review describing her live performance as
"Thelma stunned the crowd into silence with the emotional depth and range of her voice."
We can't wait to be under the spell of THELMA PLUM at this, her debut Homebake appearance.
Sheppard
Brisbane pop 6-piece SHEPPARD are igniting airwaves and audiences both here and abroad. Their breezy sing-a-long hit
Let Me Down Easy
, debuted in the Australian top 50, becoming one of the biggest independent hits on Australian radio this decade selling close to 100,000 copies. SHEPPARD have amassed a strong international following, infiltrating the music scene with their indie pop sound and youthful vulnerability. Propelled by the success of their most infectious single having cracked the top 100 on America's CMJ charts! Their most recent US tour saw the band play to sell-out crowds. We welcome their good time, party atmosphere, catchy melodies to this, SHEPPARD's first ever Homebake performance.
Put On Your Dancing Shoes - Saturday, 7 December, 2013:
Saturday Night Fever comes well & truly arrive on one of the most spectacular harbours in the world as we welcome a long missing link to Homebake ...
Presets
Bringing their unmistakable, carefully cultivated, synth laced, prismatic pop to the Homebake stage this year, the multi ARIA Award winning Sydney duo, THE PRESETS consist of vocalist/keyboardist Julian Hamilton and drummer/keyboardist Kim Moyes and boy, do they know how to play a crowd and get people on their feet dancing, seeing, and believing. With their latest offering
Pacifica
a simultaneous sense of joy and melancholy both musically and lyrically carries right through the entire record and translates into what makes THE PRESETS unstoppable live show so special. Madly energetic, wildly entertaining, huge party anthems and face melting techno. What's not to be excited about?! Bring your party people ...THE PRESETS are coming and there's no stopping them!
The Cat Empire
And speaking of long lost faves... For over a decade now THE CAT EMPIRE have carved themselves out a unique place; a band with no guitars, with no easily definable style and no corresponding haircut however a band that can step onto any stage in the world and make the crowd move. More than move, in fact. Make the crowd lose themselves in a frenzy. This genre-busting, multi-platinum collective are celebrating the release of their latest album
'Steal the Light'
and will be joining Homebake's party to spread the musical love. Always changing, always exploring the boundaries of their mutable and uncertain identity, THE CAT EMPIRE seem to have reached some kind of event horizon on their new album. The rhythm is front and centre, harnessing a feeling of beautiful chaos, ancient ritual and glorious colour, all caught up the in the magic of the beat. But clearly, as always, this music is for dancing. Dancing shoes essential, let's hear it for Homebake, let's hear it for THE CAT EMPIRE!
Archetecture In Helsinki
What would a party be without the quirky beats and pop treats of the most wonderful ARCHITECTURE IN HELSINKI! Commencing their incredible career during the late 90's, these fine architects of toe tapping tunes have since released four stunning critically acclaimed albums whilst to making serious inroads in to North America with glowing reviews through years of intensive touring. With the release of 2011's
Moments Bend
long player, ARCHITECTURE IN HELSINKI found themselves once again touring all corners of the globe, playing some of their favourite ever shows including on a Russian beach at 3am to 3000 people and a triumphant sold out hometown show at The Forum. After a decade and more imbibing the sights and sounds of the world, from a theoretical Helsinki to reality in Melbourne and all points in between all filtered through the collective AIH mindset, a new single
In The Future
has just been released in advance of the release of their highly anticipated 5th long player. Whilst we all wait, we're certain these Melbourne pop mavericks will give us a taste of what's to come at Homebake.
Miami Horror
They scored millions of YouTube hits and amassed a league of fans worldwide. And now having conquered the international stages of late, indie electronic quartet MIAMI HORROR are firmly back on home soil along with a brand spanking new single, the amazing Real Slow. According to producer / DJ Benjamin Plant, this track sees the band take a realistic approach to songwriting, choosing a topic which is real to them, rather than an imagined experience.
"I've never been a huge fan of listening to songs about love, no matter how painful or joyous they are, they can seem mediocre, but once you have those experiences for yourself then suddenly, all those songs make sense and become something you can really feel."
Reminiscent of disco-era electro-pop MIAMI HORROR are set to burn bright and have us all up and dancing at this year's Homebake.
The Ashton Shuffle
Spreading their wings on international turf has resulted in Aussie dancefloor demons THE ASTON SHUFFLE scoring accolades far & wide. In the early stages of their career, THE ASTON SHUFFLE chalked up serious respect as DJs, remixers, and producers-to-watch. Signed to Ministry of Sound,
For Everyone
was their first release, an inclusive and instant dance floor weapon led by a vocoder hook that soon became a bit of a signature for their sound. After a string of more club chart-storming single releases and remixes, the boys turned their focus to their debut album release, Seventeen Past Midnight, being the perfect introduction to the Shuffle's versatile sound, best described as emotive electronic pop. Rolling Stone Australia proclaimed the lead single
Your Love
as
"the best dance single to come out of Australia in a decade"
. Fast forward to now and THE ASTON SHUFFLE boys emerge from a solid year in the studio to present the first taste of the new album, the hit single
Can't Stop Now
and a return to festival stages at Homebake.
Way Of The Eagle
Check this out... it's the festival debut of the all-star, anthemic radio sensations, WAY OF THE EAGLE and it's happening at Homebake. To describe WAY OF THE EAGLE as the new solo project of producer-songwriter Jan Skubiszewski is to overlook the spirit and scope with which it comes. Having topped Triple J's Most Played Track chart with first single
Rattlesnake
, featuring the dusty pipes of Australian golden boy
DAN SULTAN
, WAY OF THE EAGLE is best described as a creative all-star vision - A banner under which one of the country's most prolific and revered young producers (he's worked on recent albums by
Illy, Owl Eyes
and
The Cat Empire
) can do his thing the only way he knows how, turning his street-side studio into a buzzing, beat-pumping drop-in centre for collaborating artists. A way for Skubiszewski to deliver the kind of good time and affecting musical moments that sound suspiciously like instant radio and festival classics. And for this special one off show at Homebake, WAY OF THE EAGLE will be joined by the vocal elite of singing sensations including the aforementioned DAN SULTAN, our fave (and another international legend)
DANIEL MERRIWEATHER, Stonefield's AMY FINDLAY, HARRY ANGUS (from The Cat Empire)
and
LACHLAN MITCHELL
and all complimented by Jan's big band. Quite simply, it's a performance not to be missed. We are preparing ourselves for the swoop and you should too!
Deep Sea Arcade
Sell out concerts across Australia's major cities resulted in DEEP SEA ARCADE touring with the likes of
Noel Gallagher's
High Flying Birds, The Charlatans, Girls, Kaiser Chiefs and
Modest Mouse.
With their hit 2012 album
Outlands
scoring a worldwide release and singles heavily supported in Australia by Triple J and FBi and in the UK by BBC 1, BBC 6 and XFM, DEEP SEA ARCADE decided to pack their packs for English Spring and Summer of 2013 to work on album number two. The new single
Black Cat
, which was recorded and mixed by UK heavyweight Dan Grech-Margueray (
Lana Del Rey, The Vaccines
), blisters with some of the band's toughest hooks to date. DEEP SEA ARCADE now return to Australian shores to with a record in hand and a big welcome to Homebake.
Bam Bam
He's Melbourne's latest radio hit sensation and he's taking the country by storm! What exactly is there left to say about BAM BAM? With a resume that includes supporting his best mate
360
on his sold out
National 'Flying High' tour
, amassing 30,000 downloads of his mix tapes, playing a slew of festival spots and earning over 20,000 fans of Facebook, BAM BAM is packing his bags and heading to Homebake! With the release of his first single
Bags Packed
(featuring
Allday
) scoring radio rotation everywhere and an extraordinary accompanying video BAM BAM is on an amazing career trajectory which will no doubt see him conquer charts within a short period of time.
Get Ready to Rock - Sunday, 8 December:


Birds Of Tokyo
Scoring the accolade for being the most played artist on Australian radio this year, BIRDS OF TOKYO and their insistent, bittersweet, rock sounds have resonated deeply with Australian critics and fans. Following two acclaimed albums, the indie band's self-titled third studio release spent over eight months in the Australian Top 20. The double platinum album received the 2010 ARIA Award for Best Rock Album and in early 2011 the band's breakthrough hit
Plans
ranked #4 in Triple J's Hottest 100. The album's follow up single,
Wild At Heart
, reached No. 1 on the country's National Airplay Chart and won the band an APRA Award whilst also scoring the publicly voted Rolling Stone 'Readers Choice' and ARIA for 'Most Popular Australian Artist' awards. With the release of their latest album
March Fires
BIRDS OF TOKYO have once again topped the charts. Spearheaded by the album's first two singles
This Fire
and
Lanterns
, the album debuted at No. 1 on the ARIA Album Chart giving the band their first ever No. 1 record. The album was certified Gold within four weeks of release, with the triple platinum single Lanterns becoming a national anthem. BIRDS OF TOKYO lead the way on this, the closing day of Homebake birthday celebrations.
Bernard Fanning
He's definitely rock royalty and a legend whom has graced Homebake stages with his 'other band', we welcome Mr BERNARD FANNING for his debut Homebake performance. With the stunning new solo (and chart topping) album
Departures
recently released, it's been a long eight year wait since Bernard's first ARIA and APRA Award winning album
Tea & Sympathy
. Featuring loops, horn breaks and sax solos all combined to create the musical stories written across the globe and thoughts of home,
Departures
is a layered and outstanding body of work which was introduced via the hit single
Battleships
. In Bernard's words:
"I see this album as simply a collection of songs I've written at one point in time; I'm not going for some big reinvention. It's more a reset"
. And with that said,
Departures
is yet another exceptional creation which we are looking forward to hearing live at Homebake.
The Rubens
They were a Homebake Unearthed discovery and have since gone on to conquer the charts, the airwaves and the world ...and they are the town of Menangle's finest, THE RUBENS. Having already won over a legion of fans with their rich, soulful take on blues-rock, THE RUBENS are set to get your feet tapping and your hips shaking this year at Homebake. Following on from a stellar year in 2011 the guys recorded their self-titled debut album in New York City which sat nicely in the No. 1 spot on the iTunes charts and an impressive No. 3 on the ARIA Album chart. Scoring accolades with the single
My Gun
, THE RUBENS are currently enjoying a sold out tour of America with
Grouplove
before they return home to Homebake we welcome them back to where they started with open arms!
You Am I
What can we say about this band that has not already been said by thousands? They are truly legendary and the fact remains, they were there right by our side at the very first Homebake with sporadic appearances since, and now rightfully join us for this special birthday celebration. We refer to the band than needs no introduction ... YOU AM I. Fresh from the highly successful
"Hi Fi Daily Double" National tour
, YOU AM I return make a welcome return to Homebake's stage as one of the event's all time faves! Two decades on from their first album release, YOU AM I have not only had one of the longest and most successful recording careers in Australia, but are also without doubt one of our most loved live bands. Aside from their touring exploits the band have had a busy 2013, with the recent simultaneous re-issue of their first three records,
Sound As Ever, Hi Fi Way
and
Hourly Daily
through Sony Music, and a first-time foray into the beverage world with the production of their own
"Brew Am I"
beer in conjunction with the Young Henry Brewery.
Beasts Of Bourbon
Now this legendary, all-star, band last graced our stages ten long years ago. Their story in a nutshell - In August 1983,
Spencer P Jones, James Baker, Tex Perkins, Kim Salmon
and
Boris Sujdovic
came together to form BEASTS OF BOURBON. 30 years, various line ups, several break ups, numerous reformations, a few 'never agains', six studio albums and an endless run of blistering brutal ear shattering live shows, BEASTS OF BOURBON are back, and ruthless as ever. 30 Years On Borrowed Time celebrates 30 years of BEASTS OF BOURBON on a three-disc live album featuring three different sets, one for each varying line up. Stand up and be counted at Homebake with the one and only BEASTS OF BOURBON.
Kingswood
Continuing with our rock themed closing celebrations, Melbourne four-piece indie outfit KINGSWOOD hasn't been home much this last little while but they're not complaining. After a massive start to the year KINGSWOOD have toured nationally, supported the legendary
Aerosmith
and have released their fourth single
Ohio
from the
Change of Heart
EP to critical acclaim. Most recently the guys have been in Nashville working on their debut album with producer Vance Powell. Sorry Melbourne, KINGSWOOD won't be home anytime soon - next stop Homebake!
Courtney Barnett
After years toiling away as a guitarist in other-people's bands, COURTNEY BARNETT finally gained the courage to step out as a solo artist less than two years ago. Gathering together a bunch of like-minded friends, she recorded a debut EP of rambling garage pop and released a bunch of killer singles including the free associating
History Eraser
(praised by The Guardian as
"a perfect summary of the earnest freewheelin' and rambling wit that makes music from this end of the world just so great."
) and the anaphylactic balladry of Avant Gardener. With a second EP complete (produced by
The Drones'
Dan Luscombe), a debut album around the corner and an increasingly impatient international audience waiting for her to leave our shores, it's an exciting time to be one of COURTNEY BARNETT's friends and, an even more exciting time as Courtney makes her debut Homebake appearance in 2013.
Being the envy of the world's eye, those famous sails will echo to the sounds of this one off Homebake and Sydney Opera House double birthday edition combined with the usual trimmings, although as we mentioned, in a more intimate and reduced mode. This means that tickets for each day will be strictly limited due to capacity and it will be a case of first in, first served.
Birthday Performances by: FRIDAY, 6 DECEMBER, 2013:

Gates Open: 4.00pm
Paul Kelly, Gurrumul, Eskimo Joe, Vance Joy, Thelma Plum and Sheppard

SATURDAY, 7 DECEMBER, 2013:

Gates Open: 2.00pm
The Presets, The Cat Empire, Architecture In Helsinki, The Aston Shuffle, Way Of The Eagle (featuring guest performers Daniel Merriweather, Amy Findlay, Harry Angus & Lachlan Mitchell), Deep Sea Arcade and Bam Bam

SUNDAY, 8 DECEMBER, 2013:

Gates Open: 2.00pm
Birds of Tokyo, Bernard Fanning, The Rubens, You Am I, Beasts Of Bourbon, Kingswood and Courtney Barnett

Plus Comedy, Bars, Great Food & Markets

PLEASE BE ADVISED THAT HOMEBAKE IS AN OVER 18's EVENT - You must be over 18 (eighteen) years of age to purchase a ticket Relevant Government authorised photo ID required on entry and if you wish to drink alcohol - ie: passport or drivers licence.

Check out the Homebake website for full event details. www.homebake.com.au
Oztix Member Presale September 23rd!
General On Sale September 25th!