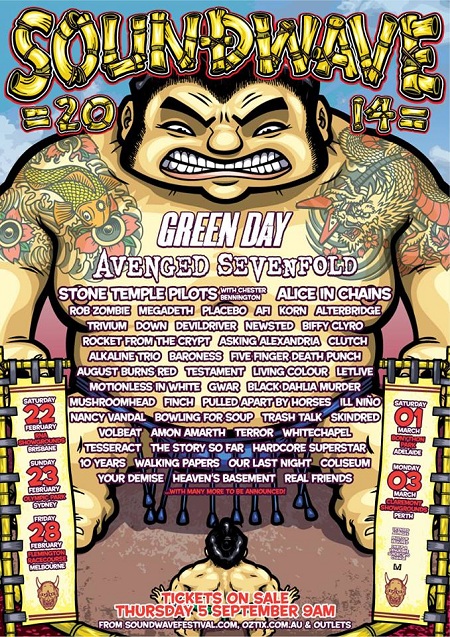 Soundwave 2014
On Sale Today!
After months of speculation, twitter leaks and uneducated bets the Soundwave 2014 lineup has been revealed.

In the leadup to the announcement festival boss AJ Maddah warned punters that last year's mega 10th anniversary bill, featuring Metallica, Slayer, Blink-182 and Anthrax, would be hard to beat. "We're not going to top it," Maddah explained as the 2014 speculation begun back in March. "It was our 10th anniversary, so a 1 off big show."

However, the 2014 lineup is certainly not to be sniffed at. The first lineup announcement for Soundwave 2014 festival features two of the festival's three headline acts. The third headliner will be announced in a second lineup announcement in the coming months.

While many fans considered Faith No More's reunion tour in 2010 their greatest Soundwave experience, Metallica's bombastic performance at last year's festival just beat out Mike Patton and co for the top spot. "Metallica exist on another level altogether," wrote our Melbourne reviews of last year's Soundwave headline set. "Their ability as live performers hasn't been hindered by the fact they haven't released a decent record since the early '90s. They are a spectacle. They are technically superb and deliver the clearest sound which has passed through the main stage speakers." Check out the full lineup here.


Soundwave 2014 lineup

GREEN DAY
AVENGED SEVENFOLD
STONE TEMPLE PILOTS (W/ CHESTER BENNINGTON)
ALICE IN CHAINS
ROB ZOMBIE
MEGADETH
PLACEBO
AFI
KORN
ALTERBRIDGE
TRIVIUM
DOWN
DEVILDRIVER
NEWSTED
BIFFY CLYRO
ROCKET FROM THE CRYPT
ASKING ALEXANDRIA
CLUTCH
ALKALINE TRIO
BARONESS
FIVE FINGER DEATH PUNCH
AUGUST BURNS RED
TESTAMENT
LIVING COLOUR
LETLIVE
MOTIONLESS IN WHITE
GWAR
BLACK DAHLIA MURDER
MUSHROOMHEAD
FINCH
PULLED APART BY HORSES
NANCY VANDAL
BOWLING FOR SOUP
TRASH TALK
SKINDRED
VOLBEAT
AMON AMARTH
TERROR
WHITECHAPEL
TESSERACT
THE STORY SO FAR
10 YEARS
ILL NINO
HARDCORE SUPERSTAR
WALKING PAPERS
COLISEUM
YOUR DEMISE
HEAVEN'S BASEMENT
REAL FRIENDS

Tickets On Sale Today!