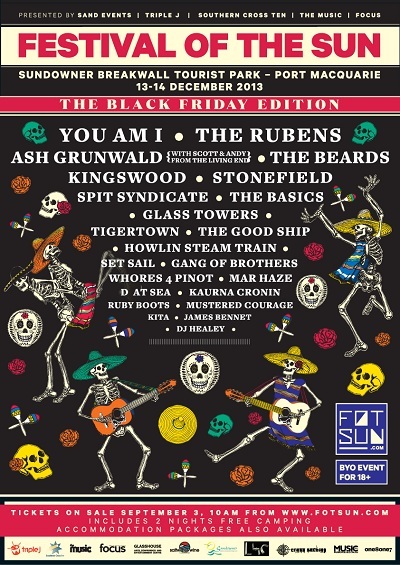 triple j, Southern Cross Ten, Drum Media, Time Off and Focus presents
Festival of the Sun 2013
The Black Friday Edition!
Festival of the Sun returns to Port Macquarie this December 13th & 14th, packing a new Black Friday theme alongside it's reliably rockin' homegrown lineup! Is FOTSUN summer's best boutique festival? Check for yourself! Prime beachside position? A weekend of incredible Aussie music? Intimate capacity of 3000? Guaranteed sunshine? And that oh-so-awesome BYO policy? Check, check, check, all right maybe not... and CHECK!

So without further adieu boys and ghouls, the lineup for FOTSUN 2013: The Black Friday edition, is...


You Am I
The Rubens
Ash Grunwald (Featuring Scott & Andy from The Living End)
The Beards
Kingswood
Stonefield
Spit Syndicate
The Basics
Glass Towers
Tigertown
The Good Ship
Howlin Steam Train
Set Sail
Gang of Brothers
Whores 4 Pinot
Mar Haze
D at Sea
Kaurna Cronin
Mustered Courage
Kita
James Bennet
DJ Healey.

What does the addition of the Black Friday theme mean for revelers? Costume ops galore! Think Mexican Day of the Dead fiesta, Halloween costumes, face-paint, wigs, probably a few animal one-sies and anything that screams in the night! Prizes will be given for best dressed!
As usual, there will only be 3000 available, so you will want to be quick! If FOTSUN's sell-out track record of previous years is anything to go by, these babies will be snapped up faster than you can say "yes THAT Wally!" when telling your mates who's in
The Basics
!
Festival of the Sun
is an 18+ event and children under 10 are free accompanied by an adult. BYO rules still apply, strictly no glass. General admissions tickets go on sale from 10am, September 3rd for $160 + booking fee per person and include two nights free beachside camping. Various on-site cabin accommodation/ticket packages are available in conjunction with Sundowner Breakwall Tourist Park.
If rocking out by the beach and getting' freaky in costume with an amazing Australian lineup sounds like your thing, then gather your mates, fill the esky, sort your costumes and grab a ticket to FOTSUN 2013: The Black Friday Edition! This is definitely not one to be missed!
Tickets On Sale Today!