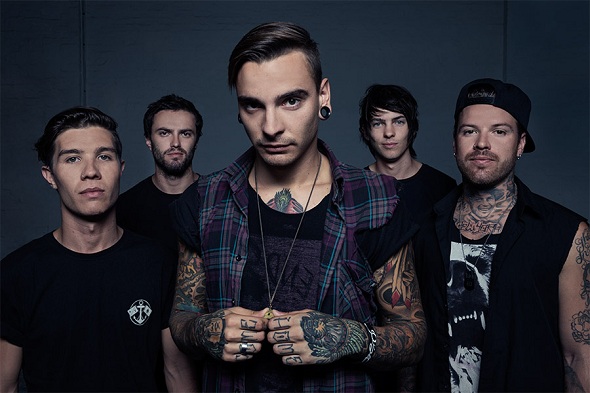 Destroy All Lines, New World Artists, UNFD, Killyourstereo.com and Blunt Magazine presents
Dream on Dreamer
The Loveless Tour Announced!
2013 has been a successful year so far for Melbournes Dream On Dreamer, the band has already toured extensively throughout Europe, recorded their sophomore album Loveless and have just completed a national tour with A Day To Remember and The Devil Wears Prada.

With a strong DIY ethic that is so rare to come by these days, Loveless was produced and mixed by the bands guitarist Callan Orr, while the artwork and imagery was formulated by vocalist Marcel Gadacz. Having such creative control has worked well for Dream On Dreamer as they have released one stellar metalcore record that is worthy of every success it already has and is likely to receive.

With a new album due to hit stores in September, California's A Skylit Drive are prepared to land on Australian shores and give fans a taste of what is to come from their fourth studio album Rise. They released the title track from the record at the start of August and from this it is evident that they have progressed into a band that are comfortable with their style of post hardcore and are showing no signs of slowing down. A Skylit Drive have an impressive amount of tours under their belt with bands like Sleeping With Sirens, Pierce The Veil and Of Mice and Men; and are ready to take on our local crowds with their energetic live show that is bound to be unforgettable.

Also hailing from sunny California, No Bragging Rights will also be joining this dynamic line up. Mixing things up a bit with their melodic hardcore sound, No Bragging Rights released their fifth record last year called Cycles and with that they addressed issues that are important to them with the main message being one of empowerment, dedication and strength through struggle. The band is about to embark on a Canadian tour with Obey The Brave, then a US tour with Stray From The Path before heading our way in November.

Forming from the ashes of The Bride and rounding out this diverse lineup is Sydney's Hellions who will be bringing to stages their refreshing combination of punk rock, metal and hardcore. The first single from their album due out later this year is Infamita featuring Adrian Fitipaldes from Northlane, which is a powerful debut and an exciting taste of what is to come from this young group.

As an exclusive offer to Dream On Dreamer's dedicated fan base there will be a special fan presale for all shows from the 16th August - 21st August. Members will need a password to access and all purchases will include a meet and greet with the band before the show, an exclusive 3 song acoustic performance, $5 off all Dream On Dreamer merch and a limited edition signed A2 size tour poster.
Tickets On Sale August 22nd!