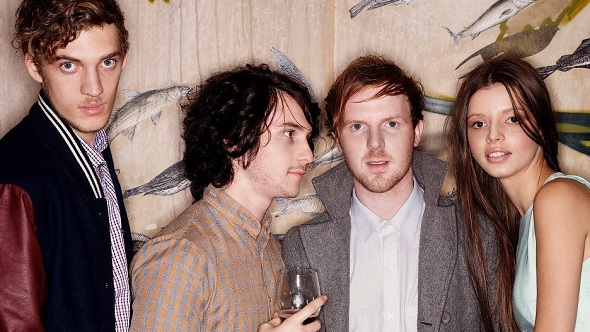 triple j, Groupie, Street Press Australia & Select Music present
The Jungle Giants
'Learn to Exist' Album Tour Announced!
As the August 30 release date for The Jungle Giants' debut album 'Learn to Exist' approaches, Amplifire Music and Select Music are thrilled to present The Jungle Giants on tour. The 'Learn to Exist' album tour will see The Jungle Giants play in all major capital cities and many regional centres. Due to popular demand the band are excited to announce that they will also perform All-Ages shows in Melbourne, Sydney, Adelaide and Brisbane.

The band is also very happy to reveal another taste from the album in 'Skin To Bone': a perfect piece of infectious pop music about everyone's favourite topic - shagging.

Packing a powerful audio punch courtesy of some fast-paced beats, big guitar moments and fine pop flourishes, 'Skin To Bone' is completed by the vocals of front man Sam Hales. The song has proved to be a new live favourite during the band's recent performances at the 2013 Splendour in the Grass & Spin Off festivals; inspiring fantastic levels of audience participation (and audience/band interaction). The song is the latest offering from The Jungle Giants debut album, which also includes 'I Am What You Want Me To Be' and 2012's 'She's A Riot'.

The 'Learn To Exist' album tour will see The Jungle Giants performing songs from their new album and favourites from the past. The band - who are known for their energetic and cheeky live performances - recorded 'Learn to Exist' at Brisbane's Applewood Lane Studios earlier this year with award winning producer Magoo. The result is an untamed, dynamic and infectious debut that surely marks the beginning of a long-lasting and exuberant adventure for The Jungle Giants.
Tickets on Sale Now!