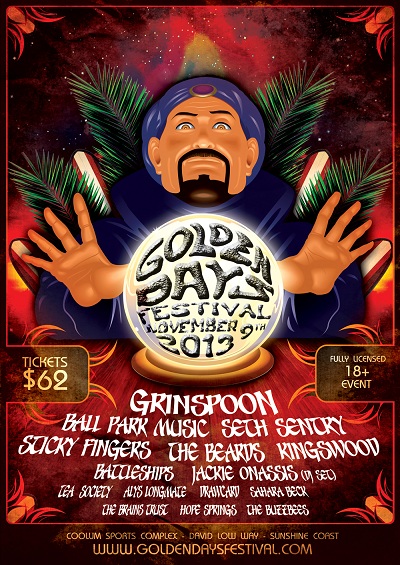 Golden Days Music Festival
2013 Lineup Announced!
Golden Days Festival has announced it's 2013 lineup lead by Grinspoon, Seth Sentry and Ball Park Music.

Held in the beautiful little seaside town of Coolum... This years GD'S will be 18+ for the very first time. Co-organizer Mark Pico says "Brendan and I made the decision to go 18+ because it gives us more freedom in the style of bands we can choose. It also gives us more scope to focus energy on the Eco Challenge which we run with the Surfrider Foundation on the Sunday. The Eco Challenge is free and more family focused so we'll have the best of both worlds over the two days."

Pico whom recently put together the lineup for the hugely successful Big Pineapple Festival which sold out in it's first year says "Grinspoon went off at the Pineapple Fest and were the most popular request to have play at GD'S... We're stoked with this lineup. I'd say we have a many of the hottest acts in the country all on the one bill."


Full Lineup

Grinspoon
Ball Park Music
Seth Sentry
The Beards
Sticky Fingers
Kingswood
Battleships
Jackie Onassis (DJ SET)
Alys Longmate
DrawCard
Tea Society
The Brains Trust
Hope Spring
Sahara Beck
The Buzzbees
Tickets On Sale NOW!