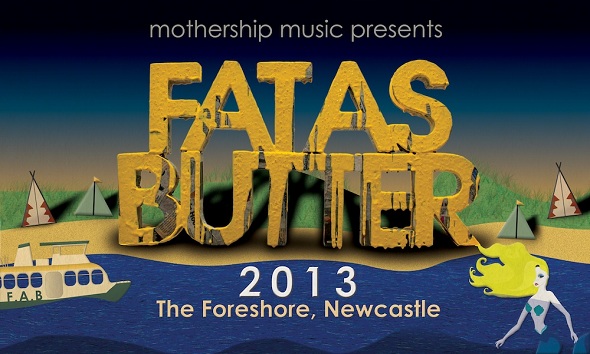 Mothership Events presents
Fat As Butter
FIRST ARTIST ANNOUNCEMENT FOR 2013
FAT AS BUTTER, the crème de la crème of music and art experiences in the Newcastle area, is now in its sixth year. In 2013 it's dripping with delectable delights of all cuts and colours. A summer journey set across multiple stages and a whole spectrum of genres, get your wanderlust on and slather on the sun block for a quirky adventure of experiential delights. For the first time ever, the introduction of long anticipated FAB Camp Experience.

Once again set in the sublime surrounds of the IFEA World Festival and Event award winning city, Newcastle, Fat As Butter melts together the perfect combination of picturesque beach views and a sparkling harbour side cityscape. This year's FAB Camp location has just been announced at Shortland Lawn, The Foreshore. It boasts the island styling's of a beachside camp where Hawaii meets Polynesian island soul, in a tantalising camping destination with the style, adventure and colour of the classic yet cool summer coastal escape!

But now time for the tastiest morsel yet - you've waited, you've wanted, you've wintered cold winds and dreary skies - now the FAB promise is fulfilled with the main course, what all you partygoers have been hanging out for - FAB's 2013 - FIRST ARTIST ANNOUNCEMENT.


GYM CLASS HEROES [USA]
BLISS N ESO
MATT CORBY
BOY & BEAR
PORTER ROBINSON [USA]
DIGITALISM DJ SET [GER]
BOOKA SHADE DJ SET [GER]
MICKEY AVALON [USA]
BOMBS AWAY [LIVE]
BRITISH INDIA
THE ASTON SHUFFLE DJs
COSMO JARVIS [UK]
OWL EYES
GOLD FIELDS DJs
SPIT SYNDICATE
THE HOLIDAYS
PEKING DUK
THE M - MACHINE [USA]
DIALECTRIX
BATTLESHIPS
WILLOW BEATS

And that's just the beginning - more acts will be announced very soon!
Rap-rock and genre-morphing kings
GYM CLASS HEROES
stage a triumphant return to Australian shores, bringing with them their eclectic style, sly and slick as hell humour, peculiar melodies and dark, soul-searing subject matter. Get ready to party down and sing your guts out -
GYM CLASS HEROES
are gonna heat up the
FAB
stage with their monstrous live show. This will be their only Australian appearance outside of Queensland so don't miss out.
Sydney hip-hop maestros
BLISS N ESO
are a total rush, synthesising of slick rhymes and banging beats, fused with beat boxing, reckless freestyle and smooth turntablism. One of the best damn live acts in the country, these Sydney boys are a hotly anticipated return to the
FAB
stage, after securing the No.1 spot on the charts with their latest album.
After time abroad charming the pants off punters worldwide, indie darling
MATT CORBY
and his band return to Australia to play
FAB
after a run of sold out UK and European shows and festival appearances at
Glastonbury, Blissfields, Barn on the Farm
and
Latitude
. With all this epic experience under his belt, Matt's gonna take us all to church.
Festival gods
BOY & BEAR
inject some essential summer sun folk-rock into the
FAB
line-up, with their delectably drivey indie folk and choral harmonies. Coming off countless live dates and a forthcoming new album, always charming, always crowd-pleasing, these boys are set to put on one hell of a show.
Champion of EDM 2.0
PORTER ROBINSON
is a veritable boy genius, working with heavyweights like
Tiesto, Skrillex,
and
Deadmau5
, and is already a festival hero in 2013, killing such epic stages as
Ultra Music Festival, Bonnaroo, Creamfields
and
Mystery Land
- just to name a few. More than just a human iPod, this kid is a dance prodigy - and all at the tender age of 21.
Some bands are dance and some are indie, some are pop and some are punk, but not many have the awesome skills to meld together all of the above.
DIGITALISM
is the rare exception - this Hamburg duo are a genre-bending tour de force, set to take the
FAB
stage to the delight of rockers and ravers everywhere.
German house kings
BOOKA SHADE
are a fixture of the dance scene in Frankfurt and beyond - and now they're set to take the
FAB
stage by storm with their uniquely cinematic brand of dance genius. A fusion of breath-taking beats and transfixing visuals,
BOOKA SHADE
is a true audio-visual experience.
Infectious, incendiary and utterly debauched,
MICKEY AVALON
journeys down-under to spit his provocative rhymes and confront Australian crowds with his consummate controversy. Full of unique rhymes and decadent self-indulgence,
MICKEY AVALON's
live show is a tribute to self-destruction - enjoy the corruption.
The musical extravaganza continues with a whole host of indie and rock fixtures, local and abroad:
BRITISH INDIA
take the stage with their fiery, in-your-face display of first-rate musicianship;
COSMO JARVIS
brings his dapper charm all the way from the UK;
OWL EYES
is set to enchant with her vibrant live act;
THE HOLIDAYS
bring their undeniably danceable brand of big-sky rock; and
BATTLESHIPS
inject an essential fusion of indie rock and post-Britpop sensibilities into the
FAB
line-up.
FAB's
eclectic line-up doesn't stop there, with even hip-hop treats in store for partygoers from everywhere -
SPIT SYNDICATE
are set to grace the
FAB
stage with their trademark slick, contemporary production values and sharp, profound song-writing, while hip-hop trendsetter
DIALECTRIX
rounds out the hip-hop offerings.
The dance spectacle is set to be an epic affair - with Aussie scene fixtures such as
BOMBS AWAY, ASTON SHUFFLE DJS, GOLD FIELDS [DJs], PEKING DUCK
and
WILLOW BEATS
being joined by
THE M MACHINE
, all the way from the US - get ready to dance the day away.
With a delectable selection of international and local talent, spanning from dance, hip hop, rock, pop to anything and everything in between,
FAB
2013 is set to be sun-drenched, dance-all-night classic - the light at the end of the dark winter tunnel.
TICKETS ON SALE JULY 25TH!