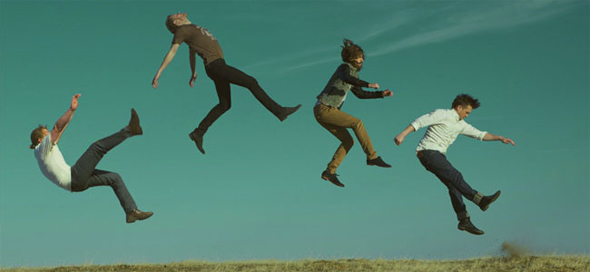 Frontier Touring, Triple M & FasterLouder presents
Imagine Dragons
2013 Australian Tour Announced!
Las Vegas-based Imagine Dragons are quickly becoming one of 2013's most buzzed about bands, and following on from releasing their debut album and being named by Billboard Magazine as one of '2012's Brightest Stars', the band are headed to Australia to play their unique, anthemic indie rock this October thanks to the Frontier Touring Company.

Their debut album Night Visions (out now through Universal) is an impressive display of raw talent that uses violins, cellos and electric guitars combined with a variety of sounds such as dubstep, folk, hip-hop and pop to fly in the face of genre and live up to their imaginative namesake.

"We like making raw natural noises and keeping them raw and natural but transforming them into synthetic noises," guitarist Wayne Sermon says. "We are gearheads. We do a lot of experimenting with percussion that's electric and acoustic on top of each other."

In the US Night Visions sold over 83,000 copies in its first week peaking at #2 on the Billboard 200 Chart and #1 on the Billboard Alternative and Rock Album chart. As of last month, the album had been certified Platinum in the United States, Canada and the UK (where it debuted at #2) and Gold in Norway, Philippines and Sweden.

'It's Time', the foot-stomping first single from Night Visions, was their first Top 40 single and nominated for Best Rock Video at the 2012 MTV Video Music Awards, while Rolling Stone heralded 'Radioactive' as "the biggest rock hit of the year," before it climbed to #3 on the Billboard Hot 100 and stayed at #1 on the Billboard Alternative Songs chart for 13 weeks. The single was certified Platinum in both the Australian and New Zealand charts while it achieved Multi-Platinum status in the United States, Denmark and Norway.

The band's live performances transform the stage into a sweeping display of versatility and innovation, their unique instrumentation and larger-than-life anthems captivating the audience. Their live shows have also garnered masses of critical acclaim, demonstrating the polish and presentation of a band far deeper into their career and discography.

Imagine Dragons is bound to be one of 2013's most talked about tours. Don't miss your chance to witness it for yourself.
Tickets On Sale 22th of July