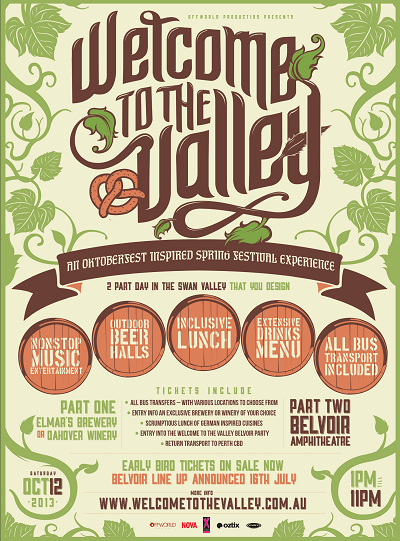 Offworld Productions presents
Welcome To The Valley
So here's how it is... There are so many out there that complain that Perth see's nothing, Perth gets nothing. Well here is it Perth - the day YOU design. Who are we to tell you how you should spend your day? So for the first time we're letting you decide...on pretty much everything! We have created a concept that caters to everyone - a beautiful marriage between the old 'Spring in the Valley, meets Oktoberfest with a boutique festival experience thrown in at the end to finish off your day.

This day isn't only about the line up or the acts you're going to see, it's about the itinerary that YOU get to create for the ultimate day filled with delicious food, cold drinks, great music, a bit of culture (different to our own) and most importantly a whole lot of fun held out in one of WA's hidden treasures - the picturesque Swan Valley... the acts and the entertainment that come along with it, well they're an added bonus now aren't they?!

And, this is how it works...

YOU CHOOSE where to start your day, and where to get picked up from. (There are multiple locations)
YOU CHOOSE which Brewery or Winery to go to.
YOU CHOOSE your lunch (which comes as part of the package) and when you're going to eat it (it's being severed all afternoon, so no rush).
YOU CHOOSE from the extensive drinks menus all day long. (Just because its Oktoberfest inspired doesn't mean there's only beer!)
YOU CHOOSE whether to sit among friends or strangers in our huge outdoor beer halls or pull up a cushion under the trees.
YOU CHOOSE how to spend your afternoon, watching the entertainment or talking among friends in our Oktoberfest inspired venues.
YOU CHOOSE to keep the FREE custom steins, or leave to them.
And when you're finally done with all the choosing, it's time to turn the intensity up a notch... or three...
WE take EVERYONE to Belvoir Ampthithtre (where you don't have to choose where to stand because you can see from everywhere) for one EPIC Party to take us well into the night...


* FULL LINE UP ANNOUNCEMENT: Tuesday, 16th July 2013 *

... finally, when you're all tuckered out or simply ready to hit the town YOU CHOOSE when it's time to go. (Shuttles to Perth CBD begin from 730pm - 11pm)

So there it is...YOUR DAY, YOUR WAY! Now all you need to do is decide the route to take and then we've got you covered.
Let's us "Welcome you to the Valley" they way it should be done.

We'll see you in Oktober Perth!

** Oh yeah... & people think we're mad moving thousands of you by bus but let us assure you measures have been put in place to assure your day is all smooooooth sailing.
*Limited private buses also available*

"THE NO NEEDS"
No need to worry about work Monday. It's a Saturday event.
No need to drive or get lifts - ALL the transport is provided!
No need to get up early for a crack of dawn tour start - we're startin' at midday.
No need to worry about food - we're feeding you lunch! (That includes you vegans & vegetarians we've got choices for you too.)
No need to worry on what to wear - there's no rules! Dress up if you want to. Don't if you don't.
No need to worry on what to do once your afternoon at the brewery or winery is over...we're ALL going to same epic after party...AT BELVIOR!!!


IT'S YOUR DAY! ... We're just here to help with the fun.
Tickets On Sale NOW!