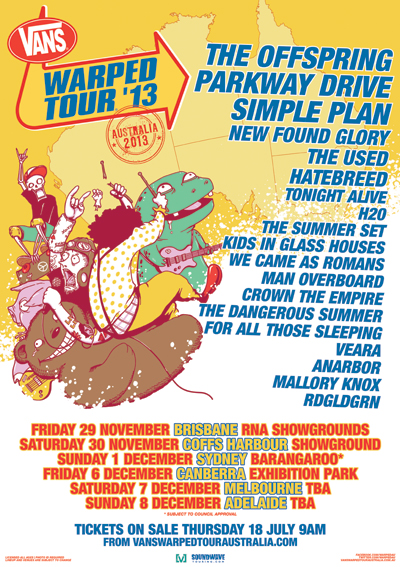 Vans Warped Tour 2013
The 2013 Australian Vans Warped Tour line up announcement is finally here, featuring a swag of local and international acts joining the recently confirmed Simple Plan, including The Offspring, Australia Warped veterans New Found Glory, The Used, Parkway Drive and a stack more!

Every Warped features an array of acts and genres that evolved from classic punk rock, with scrappy local acts as well as scene veterans and stars of the moment, and in that venerable style this lineup features a mix of classic punk and newer core acts, including acts Tonight Alive, For All Those Sleeping, Kids In Glass Houses and The Dangerous Summer.

Vans Warped Tour was revived in Australia this year for the first time since '02 by Warped top dog Kevin Lyman, capably assisted by Soundwave promoter AJ Maddah and his wealth of local knowledge. Since the announcement of the festival's return back in February, the pair have been hand-crafting a festival especially tailored for Australian music lovers while still retaining that classic DIY Warped Tour spirit

The festival kicks off on 29th November at Brisbane's RNA Showgrounds, making its way through Coffs Harbour, Sydney, Canberra, Melbourne and finally Adelaide. Unfortunately Perth won't be getting their Warped fix this year, but as consolation they will also be the ONLY city to receive sideshows (though none from Simple Plan).

Warped tickets have been priced at $99+bf, and are set to go on sale next week.

As a special treat for those who stayed up and waited for this epic lineup, we've got an exclusive announcement interview from Warped features New Found Glory. Let them say hi as you check out the line up below!


Vans Warped Tour Australia 2013 lineup

Parkway Drive
The Used
New Found Glory
The Offspring
We Came As Romans
Crown The Empire
Tonight Alive
Hatebreed
The Dangerous Summer
The Summer Set
Kids In Glass Houses
Anarbor
Veara
Mallory Knox
H2o
Rdgldgrn
Simple Plan
For All Those Sleeping
Man Overboard

Tickets On Sale 18th of July!