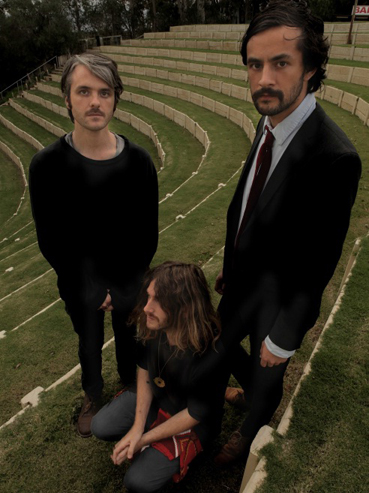 Triple J & Spotify presents
Midnight Juggernauts
Video reveal for new single 'Memorium'
Announced national album launch tour
Midnight Juggernauts reveal the video for new single 'Memorium'.

Premiered by The Creators Project and Directed by Vincenzi Vandella, the video visually documents the evolution of CGI. Midnight Juggernauts new album Uncanny Valley will be released on 14 June 2013 via Siberia Records / Remote Control.

Following national supports for Tame Impala and playing Groovin' The Moo, Midnight Juggernauts will launch Uncanny Valley, in Europe and South America this June and July 2013, playing shows in Colombia, Argentina, Chile, UK, France, Spain, Netherlands, Germany and Portugal. View all the tour dates here. Midnight Juggernauts will launch Uncanny Valley nationally in Australia this August and September 2013. All the details below.

Since forming in Melbourne in 2004, the band have forged a unique path, pressing themselves firmly into the popular and unpopular consciousness, refusing to be bound by boundaries of genre, convention, or expectation. Uncanny Valley marks Midnight Juggernaut's third full-length journey into the deep, once again piloting their glittery kosmische musik far into known cosmos and unknown genre. The band began rolling tape between a church nestled in the Loire Valley in the French countryside and various studios in Melbourne and Sydney; the resulting record is another LP that sounds uniquely Midnight Juggernauts. Situated at a self-styled nexus between genre and era, Uncanny Valley is 43 minutes of warm-hearted cold wave, interstellar harmonies, early 1950s house, steeped in the darkness of dusty Giallo soundtracks, audio spomeniks at once futuristic and rustic: a bold musical future envisaged through a soundtrack to a forgotten Eastern Bloc Tarkovsky film, sifting through the ruins of LPs past.

Uncanny Valley marks the band's long-awaited return, their first output for three years following their previous albums Dystopia and The Crystal Axis. After touring long and hard from Brisbane to Barcelona, Berlin, Bogotá, and beyond - the trio took 'time off', which really equated to throwing themselves into all manner of esoteric adventures, oddball one-offs, inspired shindigs, and ambitious undertakings.
Tickets On Sale NOW!