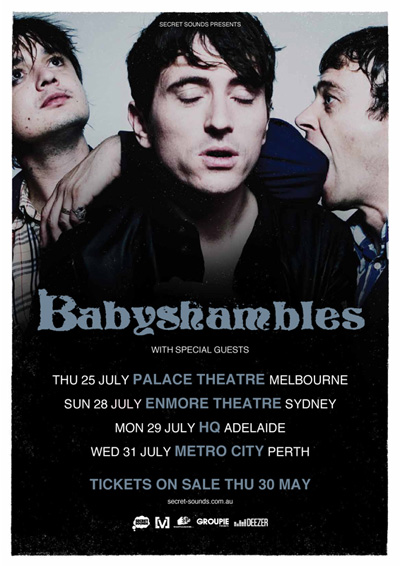 Secret Sounds presents
Babyshambles
Splendour Sideshows
Secret Sounds announces that sharp English garage rockers BABYSHAMBLES will be performing a string of sideshows across Australia around their spot on the Splendour In The Grass 2013 bill.

The irrepressible Mr. Peter Doherty and Co's very first trip to Australia will take them to Melbourne, Sydney, Adelaide, Perth and Byron Bay.

Babyshambles' league of loyal fans has long awaited the next offering from the band. Good news came recently when they premiered a new track "Dr No (Sharks In The Water)" in Paris.

With two LPs behind them (2005's Down In Albion and 2007's Shotter's Nation), Babyshambles are currently putting the finishing touches to their third album in a Paris studio and are looking forward to road testing the new tracks live for the fans.

Recorded with producer Stephen Street (Blur, Kaiser Chiefs), reports leaking from the studio say their highly anticipated third release is a huge return to form.

Musician, painter, actor and poet, Doherty formed Babyshambles during a much publicized hiatus from UK band The Libertines in the early 2000's. The side project went on to become Doherty's primary band and win over an army of devoted fans.

Peter Doherty (lead vocals, rhythm guitar), Mick Whitnall (lead guitar, backing vocals) and Drew McConnell (bass guitar, backing vocals) will touch down on Australian soil in late July, ready to bring their very own brand of rambunctious rock n roll to stages across the country.


Tickets On Sale 30th of May