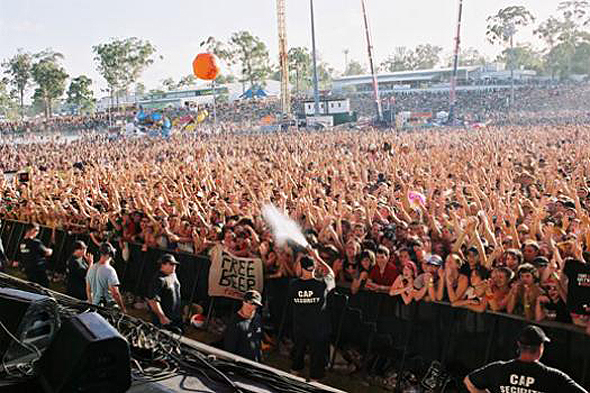 Big Day Out
Confirmed Five-Year Gold Coast Deal
Big Day Out will remain on the Gold Coast for at least five years at the new venue of Metricon Stadium and Carrara Parklands after coming to agreement with the Queensland State Government.

They had complained that the "Punishing" terms placed on them by the authorities - who are looking towards Gold Coast's 2018 Commonwealth Games - would force the event from the region before they reached an agreement in January.

Today Big Day Out's CEO Adam Zammit said they were "excited" about the venue, which is home to Australian Rules club the Gold Coast Suns.

"The Gold Coast show is the first stop on the Australian run of Big Day Out dates and for the many international acts who have never visited Australia, it's always great to fly them into the Goldie first... Our new venue meets the highest of our expectations and standards and we hope will be the home of Big Day Out for years to come."

Speaking to theMusic.com.au Zammit confirmed that the State Government has made a "financial contribution" to the festival as part of the agreement and that there would be further news on the festival's 2014 venues plans in five or six weeks time.

"At a minimum we'll be in all five states and New Zealand," he said.

The festival aims to attract 45,000 in Gold Coast and Tourism, Major Events and Commonwealth Games Minister Jann Stuckey said it equated to approximately $30 million for the local economy.

"This decision brings certainty not only for the event organisers but also for other businesses and music lovers benefiting from the festival," she said.

The festival has been held at Parklands Showgrounds recently, but that space will be converted into the athlete's village for the Games.

Last month Big Day Out signalled their intention to return to New Zealand.