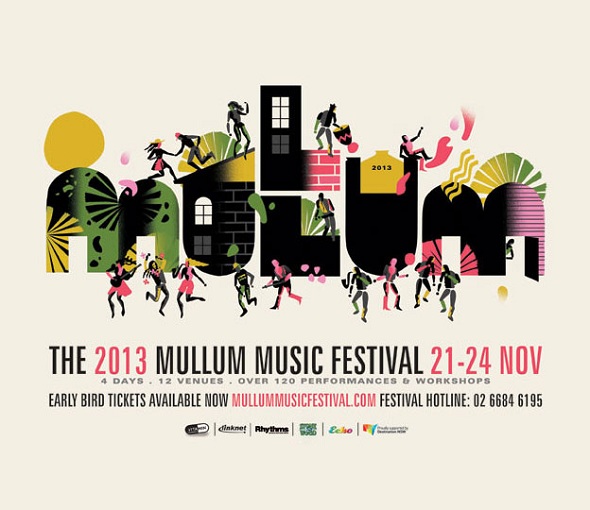 2013 MULLUM MUSIC FESTIVAL

LINE-UP ANNOUNCED!

Raul Midon (US), The Basics, Barefoot Divas, Blue Grassy Knoll, Pieta Brown (US), Swamp Thing (NZ), Robert Ellis (US), Arte Kanela Flamenco, Jaaleekaay (Gambia), Rose Cousins (Can), Mama Kin, Tinpan Orange, Love Over Gold (Pieta Brown & Lucie Thorne), Dubmarine, Bobby Alu, King Tide, Kingfisha, Sticky Fingers, Skipping Girl Vinegar, Sketch The Rhyme, Caitlin Park, Corey Chisel & The Wandering Sons (US), Old Man Luedecke (Can), Marlon Williams (NZ) Jordie Lane, Lucie Thorne, Elana Stone produced by Zebra Zap, Declan Kelly & the Rising Sun, Kooii, Chocolate Strings, Ray Mann 3, Potato Potato, Lifeline, Jack Carty, Rebecca Ireland, The Junes, The Perch Creek Family Jug Band, Loren Kate, Greg Sheehan, Ben Walsh: Loop Zero, Teatro Matita (Slav), Aluka, Miles and Simone, JoJo Smith, Leah Carriage, Starboard Cannons, The Little Stevies, Mustered Courage, Sal Kimber & The Rollin' Wheel, The Lucky Wonders, Round Mountain Girls, Lez Karski Band, Green Mohair Suits, Annie Plummer, The Sugar Spinner, Walrus & The Carpenter, Sister Mary's Acoustic Mullum, Victoriana Gaye, James Kenyon, Mr Cassidy, James Teague, Muberry Bend, The Hottentots, Gabriel and Cecilia, Clelia Adams & River Express, Three Little Sisters, Northern Rivers Ukulele Orchestra, Spaghetti Circus, The Pitts, Raise the Roof Community Gospel Choir, The Biggest Little Town Choir, St John's Singers, Stukulele and Miss Amber's Chocolate Wheel, MC Mandy Nolan, Roundabout Theatre Company, a c.a.s.e for correlation, The Curly Cousins, The Magic Bus



It's beard meets bongo, banjo meets burlesque, flannelette meets flamenco and above all it's a boots n all banquet of quality music and experiences as Mullum Music Festival announces it's 2013 line-up in what is unofficially heralded as the first festival of a long hot summer.

With a rep as one of the best boutique festival experiences around, the 6th annual Mullum Music Festival has announced a typically eclectic and colourful line-up of international, national and local acts for music lovers to enjoy in the quaint halls, pubs, clubs and streets of the funky little Northern NSW town of Mullumbimby.

Just some highlights include Mexican born blind singer & guitarist Raul Midon (US), who has collaborated with Stevie Wonder, Herbie Hancock, and Bill Withers and is described by the NY Times as "a one-man band who turns a guitar into an orchestra and his voice into a chorus." The surprise hit of last years Sydney Festival, Barefoots Divas featuring Helpmann Award winner Ursula Yovich (Serbia/Burarra), Whirimako Black (Maori), Maisey Rika (Maori), Merenia (Maori/Romany/Gypsy) and Ngaiire (Papua New Guinea) come together for two special encore performances of their inspirational show 'Walk a Mile In My Shoes'. Melbourne cult heroes The Basics (Wally De Backer, Kris Schroeder, Tim Heath) will finally get some time together to play some sweaty rock n roll at Mullum Festival while Blue Grassy Knoll also step out from the international arts festival circuit to do two rare live performance to Buster Keaton's 'The General'. Midwestern folk poetess Pieta Brown will team up with Australian singer/guitarist Lucie Thorne as harmony rich outfit 'Love Over Gold' while festival favourites Tinpan Orange, Mama Kin, Jordie Lane, Sal Kimber and Jo Jo Smith will no doubt pack out venues with happy punters.

Taking place over four days the Mullum Music Festival is as much about 'the vibe of it' (as the lawyer in The Castle would say) as it is about the delicious gumbo of glorious music. It's where Melbourne and Sydney hipsters mix it with Mullumbimby locals, and Brisbane day-trippers rub up against Byron Bay refugees sheltering from the storm of Schoolies Week. It's where you leave your attitude and inhibitions at the door, and allow yourself to be transported to new and sometimes familiar musical destinations.

"To me, this festival represents all that I love about music - community, passion, creativity and soul," says Mullum Festival Patron Mama Kin. "Not only does the festival continually program dynamic and exciting acts, it presents artists who also share the spirit of the festival and are keen to engage with the local community beyond just playing live music."

"Mullum Music Festival takes place in existing venues in the town so it's easy to access, it's affordable, the sound is good and the venues are comfortable. You don't get festival fatigue," says Glenn Wright, Festival director and local resident for 12 years. "Mullumbimby is a small town with a diverse, strong community. Even if you don't have a ticket, you can still take the kids to watch street theatre, go to the free events and experience the excitement of the town coming to life. The benefits flow on to local artists, local shops, and also to the bigger cultural picture of Mullumbimby as a unique regional town and counter culture hub. The festival weekend feels like some big, weird family reunion or home, coming party. On the Sunday we have a big New Orleans style brass and drums parade through the streets, everyone comes, it's hilarious."

"I like it that this festival is boutique with a small capped capacity. It means I don't have unlimited resources and I need to work within a budget and the physical limitations of the venues. This makes me really scour everything that's happening musically all over the country to find new and interesting artists. Clairy Browne, Husky, and Washington are all examples of acts that have played MMF and have gone on to much higher profile careers."

The festival remains low key and no fuss with little, if no, police presence. "It's not necessary" said one attendee "This is just a music loving community loving their music."

Prepare yourself for a musical baptism with over 80 performances in 14 venues over four days. Tickets range from $62 for a Friday pass to $78 for Saturday or Sunday pass (with generous discounts for youth and children tickets).

Tickets On Sale NOW!