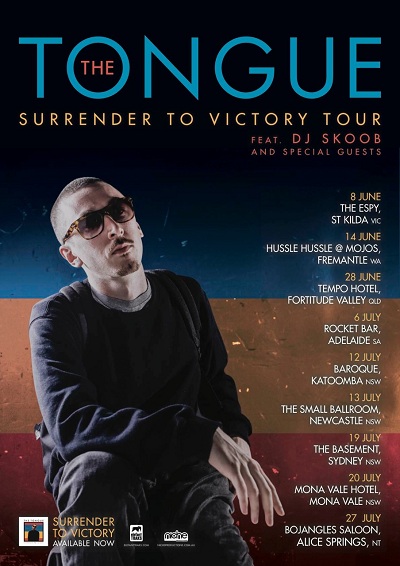 Niche Productions
The Tongue
SURRENDER TO VICTORY TOUR
One of the newest additions to Niche's local agency roster, The Tongue announces the nationwide tour in support of his third and most compelling album 'Surrender to Victory'. Released late March on Elefant Traks and spearheaded by the lead single 'Drums', 'Surrender To Victory' sees The Tongue (AKA Xannon Shirley) at his lyrical best and backed by the beats of super producer Cam Bluff. Watch the video for 'Drums' here: http://www.youtube.com/watch?v=jwfIfGQYQPk

The LP has critics praising the writing, vocal performances, choice of guests and sparkling production:

'A record that would change the mind of any naysayer of the Australian Hip Hop scene' - The Brag (Album of the week)

'Lyrically inventive, tightly packed verses' - Sydney Morning Herald

An electric live performer whose confidence with the pen is matched and sometimes bettered when on stage, The Tongue's live show is co-anchored by DMC Champ DJ Skoob, making this one of Australian Hip Hop's most dynamic duos. The Tongue has also played most of the important major festivals and Hip Hop events on the calendar including Big Day Out, Groovin The Moo, Good Vibrations, Sydney Festival, Sprung, Come Together and many more.

Recently seen touring the East Coast with Mac Miller, The Tongue's 'Surrender to Victory' tour will include a host of special guests from across his extended family coast to coast.

Recently making history as the first international Hip Hop act to perform in Cambodia as part of the Tiger Translate Festival and his highlight appearance as part of 2012's Vivid Live Elefant Traks vs Dr Seuss at Sydney Opera House (which can be viewed here http://www.youtube.com/watch?v=8ofKvqkl7Qs don't miss The Tongue as he travels across Oz in support of his brand new album and stay tuned for more featured singles off the incredible 'Surrender To Victory' LP.
Tickets On Sale NOW!