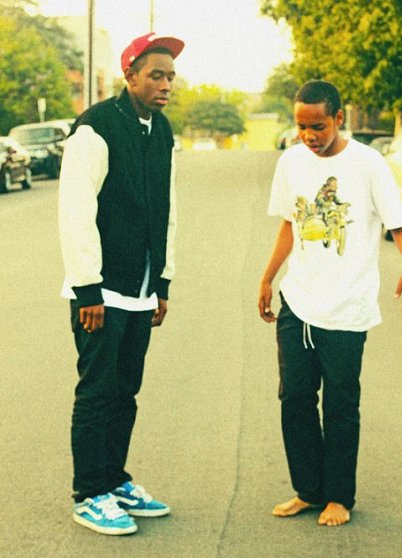 Frontier Touring, triple j, Channel [V] & Spotify present
EARLWOLF FEAT. TYLER THE CREATOR WITH EARL SWEATSHIRT
The Frontier Touring Company has announced that Odd Future alumni Earlwolf featuring hip hop virtuosos Tyler, the Creator and Earl Sweatshirt are set to embark on an explosive Australian tour this June!

Tyler and Earl are two of the most talked about hip hop artists of recent memory but it isn't just the hype; each have earned their acclaim by subverting conventions of genre with divisive lyrics and an innovative, experimental sound. Together they are a provocative force of nature that owns every inch of the stage.

Much like his namesake, Tyler's work has been impressively prolific. At the centre of hip hop collective Odd Future, Tyler has had a hand in the artistic direction of his own and many other releases often acting as producer, director and designer.

The self taught musician blazed into the spotlight with debut studio album Bastard in 2009, which ranked 32nd on Pitchfork's list of the Top Albums of 2010. Second album Goblin quickly followed debuting at #5 on the US Billboard 200 and selling over 230,000 copies.

Easily one of the most anticipated releases this year, third album Wolf (out now through Sony Music) showcases an evolved aesthetic. His lyrics are more thoughtful but still as confronting and charismatic than ever and his beats like bullets, ricocheting through your ears to all the dark and unexpected places in your brain. True to form, it's a critical gem;

'With Wolf, Tyler, the Creator displays a radical growth as a producer, composer and arranger' - Pitchfork

'The album is revealing and never not entertaining, Tyler has given us yet another great album with a fervent depiction of just why he is so angry, why he wants to grab rap and choke the life out of it, and why Odd Future are still one of the most exciting movements in music.' - The AU Review

Fresh from a knock out performance at Coachella, 19 year old fellow Odd Future affiliate Earl Sweatshirt is equal parts enigma and hip hop prodigy. His self titled debut (produced by Tyler) grabbed the internet by the scruff of the neck and forced it to pay attention, mesmerizing critics with dark, complex wordplay and confronting themes. Following a musical hiatus after being sent away to a reform school in Samoa, Earl released 'Chum' a disarmingly honest and expertly crafted track that left critics captivated and waiting for more;

'Chum takes Earls dizzily eloquent flow inward... I would straight-up punch a puppy in the face for a new Earl album at this point.' - Stereogum

'New verses from Earl are ridiculously rare these days, but when they hit, they hit hard. Over a spare piano beat, Odd Future's youngest sounds more honest and raw than he has since his return from the Coral Reef Academy in Samoa.' - Vice

Don't miss your chance to see two of the most explosive artists of recent times in their element this June.
TICKETS ON SALE 07.05.13