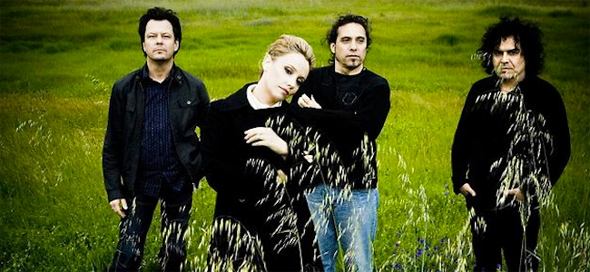 baby animals
2013 Australian Tour Announced
You heard right, the Baby Animals are back with their third studio album, the first in twenty years.

This Is Not The End will be released on Friday 31st May via Social Family Records. To celebrate the release of the album the band have announced that they will tour the East Coast of Australia this June.

It's been two decades since their last full-length studio album and the Baby Animals strike a familiar pose with their enigmatic singer Suze DeMarchi and her talismanic guitarist Dave Leslie returning for action.

They're joined by rhythm section comprising of two familiar faces in Dario Bortolin on bass and Mick Skelton on drums. This Is Not The End is a genuine rock album with a return to classic Baby Animals form that their fans will love.

The Perth-born singer and guitarist Dave Leslie have either penned or co-written all songs on this album, some of which draw on the break-up of Suze's marriage with guitar hero Nuno Bettencourt. The album was produced by ARIA award-winning producer David Nicholas (INXS, Ash), and Nick DiDia (Pearl Jam, Stone Temple Pilots) also lent his considerable skill on the record's first single Email.

"I'm really, really proud of this album. I love every track and I can't wait to perform these songs on tour. I love playing live; gigs really are the pay off. We want to go wherever this record takes us," enthuses Suze.

This Is Not The End is the start of a new beginning for the band. They are thrilled to be releasing new material in this day and age, where the music industry has changed so dramatically since their last release.

"We feel more driven than we were when we were younger," says Suze. "We decided to buck the system with this record and put it out independently. The music business is so stale right now, we wanted to do it differently. We've been able to really reconnect with our fans on social media."

The path tread by Baby Animals has had some incredible high points. There were the many memorable hits which have included Early Warning, Rush You, Painless and One Word. The band's eponymous album spent six weeks at No. 1 in Australia, converting platinum sales and selling over one million albums worldwide.

There were ARIA Awards, international touring and friendships with Van Halen, Robert Plant, Paul Rodgers, and Bryan Adams. Suze has enjoyed the induction into the Western Australian Music Industry Association's (WAMI) Hall of Fame. More than two decades have passed since the Baby Animals exploded onto the scene and today the band are standing taller, feeling more empowered and sounding even stronger than ever before.
Tickets On Sale APRIL 29!