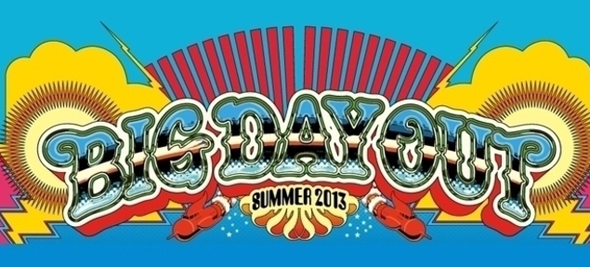 Big Day Out ANNOUNCES NZ RETURN!
Big Day Out will return to New Zealand with a new and improved format in 2014.

Speaking with the New Zealand Herald, promoter Campbell Smith (whose company CRS has brought the BDO to NZ for the last decade) revealed that since taking a year off to "reflect" and consolidate, the timing was right to revive the event in Auckland. "We started thinking about how it would be possible to do a show here, and pull a show off here in New Zealand that made sense", Smith explained. "I think we want to try and build a show here that is made for NZ so it's not simply going to be the sixth Australian Big Day Out, it's going to be a show that we are going to curate for this market."

In early 2012 BDO boss Ken West announced that the festival would not be returning to NZ, and true to his word only headliners Red Hot Chili Peppers made it to Auckland this year for a stand alone show. Elaborating on the decision in an interview with FL last year, West explained the reasoning was purely financial: "New Zealand should have never happened."

However, he also hinted that a return was on the cards if they could find a viable solution, "I think New Zealand will depend on what we can do over there. [We] did a very quick exercise yesterday which was: if you translate the $165 ticket all inclusive, which is what we are doing, to NZ which is only 80% to the dollar plus GST, that is like $220. And so nobody in New Zealand wants to pay $220, they only want to pay about $130. So thus therein lies my problem. And that needs a solution before we can say we will go back there."

Smith says that the festival was always going to return to New Zealand and that it was just a matter of working out an event that was more financially viable. He also confirmed that while the event will be branded "Big Day Out NZ", it will be different to the Big Day Out of times gone by. "I think it is the end for that type of show," he explained, "We want to try and so something that is built for NZ that perhaps embraces a broader spectrum of art and culture than simply have seven music stages. Don't get me wrong it is a music festival but there are other things we think we can do here to make it a show of broader appeal".

The first major change to Big Day Out NZ will be the venue. Smith revealed that he is the process of filing "resources and consent" forms to hold the 2014 event at Western Springs. It has previously been held at Mount Smart stadium. Western Springs is situated in the centre of Auckland City and features a natural amphitheatre, and plenty of grass and trees. It has hosted the likes of AC/DC and the Foo Fighters and has a capacity of 50,0000 people.

As for what else New Zealanders can expect, Smith remained pretty vague, however, he did confirm that it would be a multi-stage event with "broader artistic, cultural elements."